White interiors for cars give the vehicle a refreshing and modern appeal. Not only do white interiors look stylish, but they are also very versatile and can enhance interior trim of any color.
The white option will bring light to your car's interior, adding a feeling of spaciousness and brightness. Its refreshing look makes it easy to understand why many people opt for a white car interior.
Unfortunately, not many automotive manufacturers nowadays provide white color options for car interiors, and even if they do, they usually charge additional fees.
In this article, I will list some cars and SUVs with elegant white interiors. This information will be useful for those looking for cars with white interiors.
Volvo S90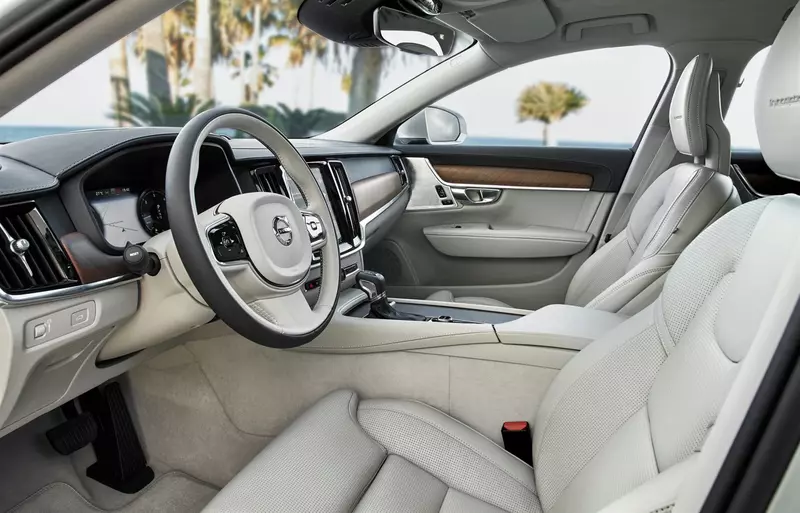 Volvo S90 is available with a white interior. This luxury sedan offers a range of interior color options, including black, beige, and white. The white interior is an elegant and stylish choice, giving the S90 a modern and sophisticated look.
The white interior is available in various materials, including leather and Nappa leather, depending on the trim level. The seats, door panels, and center console are all finished in white, creating a clean and minimalist aesthetic.
Cream leather accents blend seamlessly with light beige upholstery for a sophisticated and inviting atmosphere.
The tactile surfaces add to the experience, making each drive feel like a journey far from the ordinary.
With ample cargo space for those weekend adventures and its myriad safety features, the Volvo S90 boasts something for everyone who seeks innovation and quality.
Overall, the Volvo S90 with a white interior is a luxurious and sophisticated choice for those looking for a high-end sedan.
Rivian R1S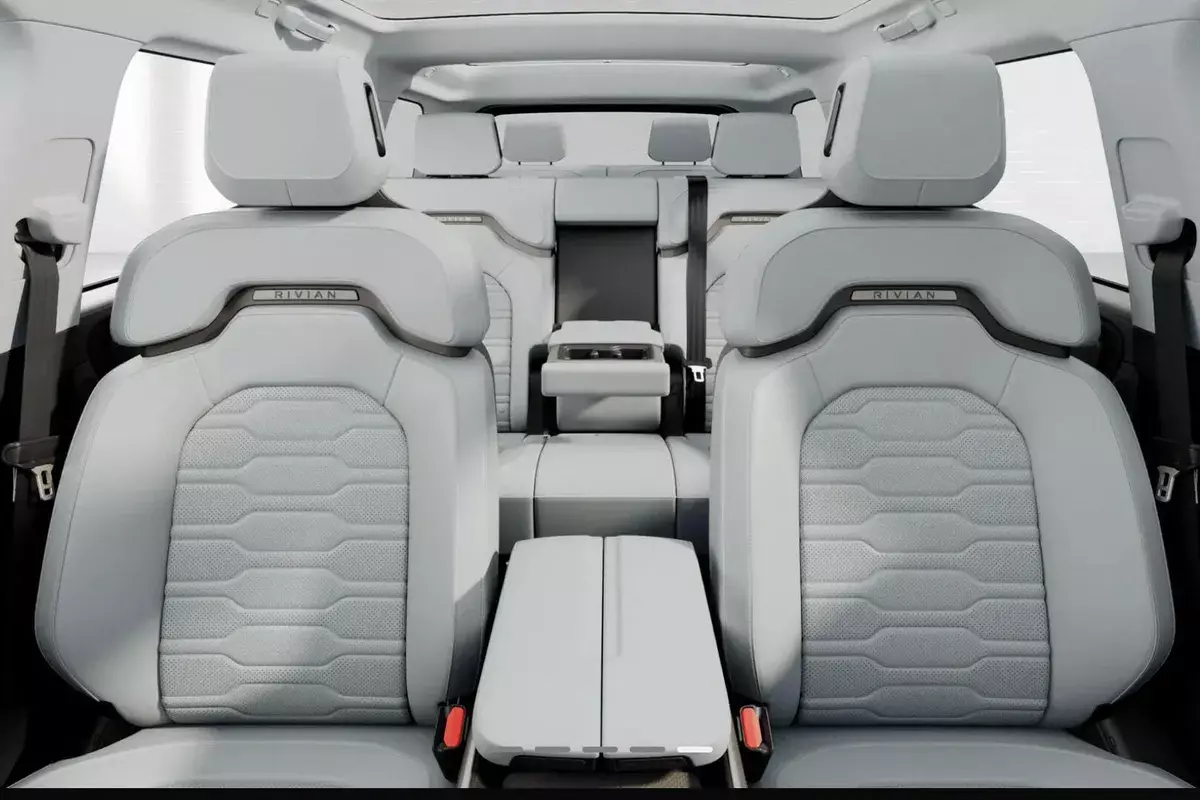 With the Rivian R1S, you can enjoy a stylish and comfortable ride. The contemporary white interior of the R1S delivers a sense of class and sophistication with its sleek materials and luxury details.
Rivian R1S is an all-electric SUV with a range of up to 300 miles, seating for up to 7, and advanced off-road capabilities.
Rivian R1S is available in several interior color options, including Black Mountain, Ocean Coast (White), Black Mountain+Dark Ash Wood, Ocean Coast+Dark Ash Wood, and Forest Edge+Warm Ash Wood.
The white interior also includes contrasting black accents on the steering wheel, floor mats, and other cabin parts. The R1S white interior is available on all trim levels and can be combined with various exterior colors.
Lexus LS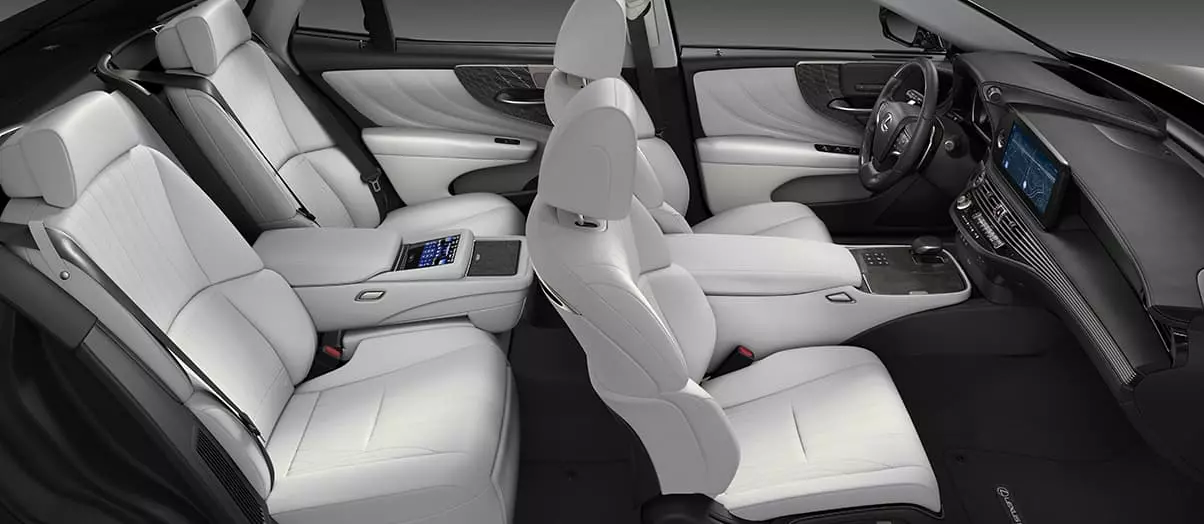 Offering a combination of style and luxury, the Lexus LS series offers buyers an interior crafted from top-grade materials to provide a luxuriously comfortable experience.
Lexus LS does have a white interior available on certain models and trims. The LS is a luxury sedan, and Lexus offers a range of interior color options for customers, including white, black, gray, and beige.
The white interior is often paired with a contrasting black dashboard and door panels, giving the car a sleek and modern look.
It's also equipped with cutting-edge technology that provides convenience and easy access to information, like the 12.3″ display screen, 12-speaker audio system and advanced climate control options that make each ride feel smooth and calming.
The white interior is available on various LS models, including the LS 500, LS 500h, LS 500 F Sport, and LS 500 Inspiration Series. However, it is worth noting that the availability of the white interior may depend on the specific market and dealership.
Tesla Model 3 & Model Y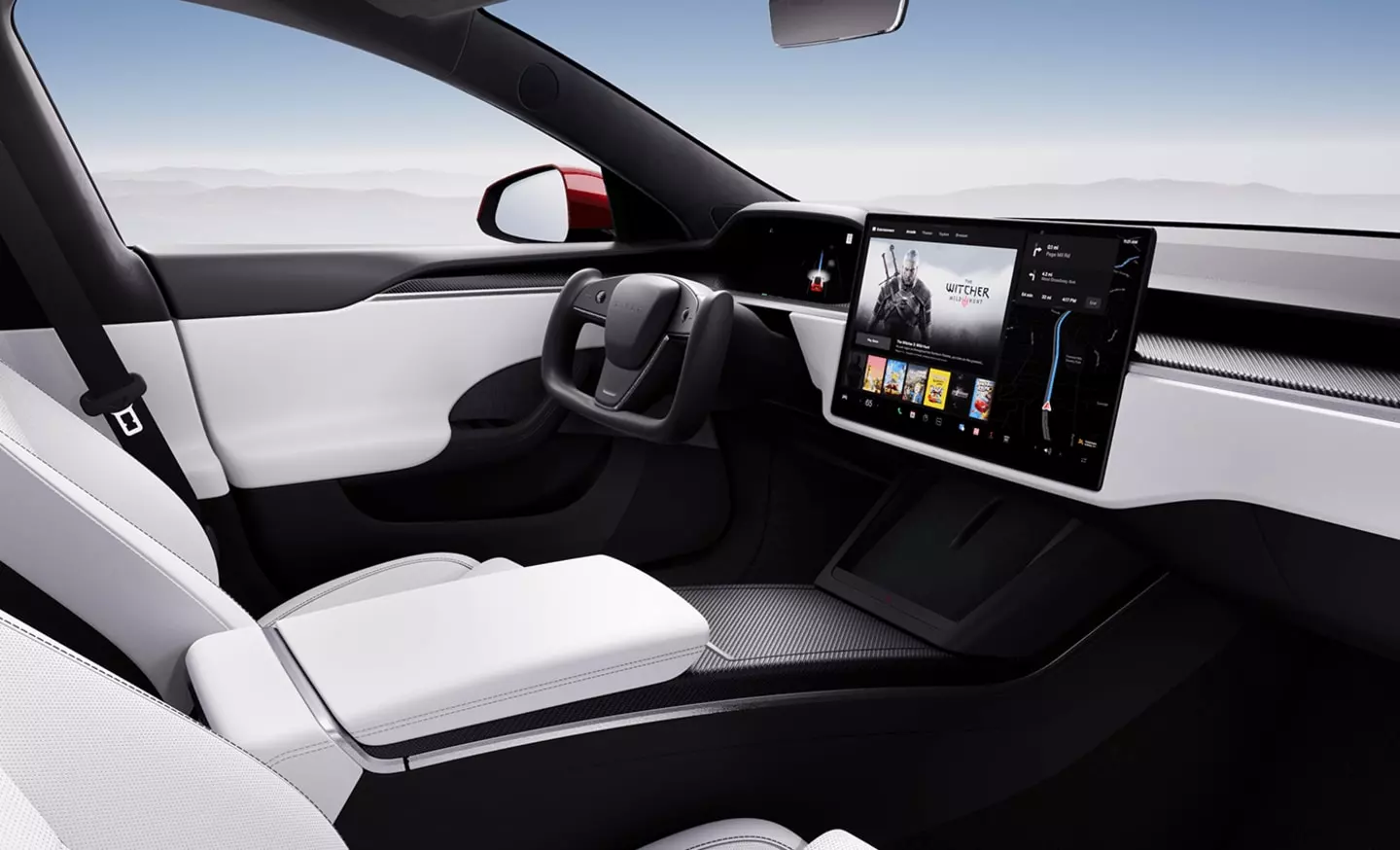 The Tesla Model 3 and Model Y are luxurious and attractive vehicles from the inside, as evidenced by their white leather seating with accents that boast a sleek, modern style.
As one of the most well-known electric cars, it has become a symbol of opulence and forward-thinking technology.
Its advanced features have made this car an excellent choice for both eco-friendly drivers and those who like to stay ahead of the curve in innovation.
From its impressive performance capabilities to its stylish interior, it's clear why so many have chosen the Tesla Model 3 as their way to make an impression on the road.
Genesis G90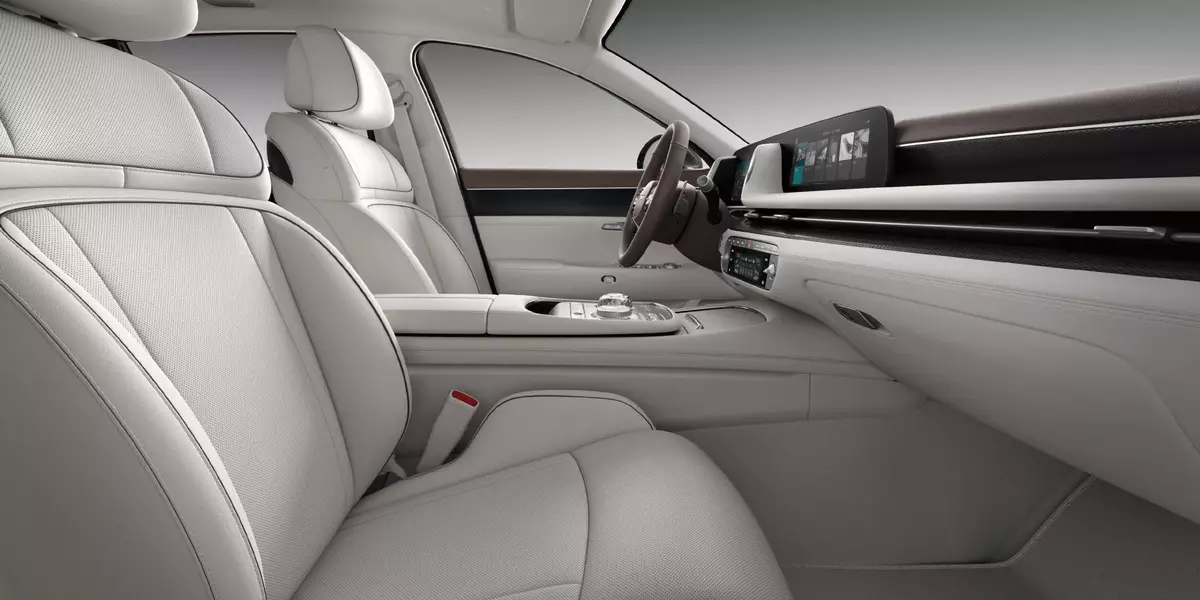 The Genesis G90 is a luxury sedan that offers a sleek, modern design with advanced technology and features. It was available in a wide selection of interior colors, including White; Genesis named it "Glacier White."
The Glacier White interior is an optional color scheme for the G90 that provides a clean, contemporary look. The seats, dashboard, and door panels are all covered in white leather, with contrasting black accents and wood trims adding a touch of elegance.
The seats are highly adjustable, with heating and ventilation capabilities, providing a comfortable driving experience. The cabin is spacious and quiet, offering a serene atmosphere for passengers.
The G90 has various tech features, including a large infotainment display, a premium audio system, and advanced safety features.
Overall, the Glacier White interior adds a touch of sophistication to the already luxurious Genesis G90.
Mazda CX9
The Mazda CX9 Signature with a white interior is a sight to behold, pristinely preserved and with an elegance that screams luxury.
Its leather-trimmed seating offers supreme comfort for up to 7 passengers. At the same time, the intuitive Smart City Brake Support feature works silently in the background, ensuring a safe journey no matter your destination.
As you drive, take pleasure in the 2nd row easy access capabilities and full center console access to the 3rd-row seating, giving ease of use while providing generous cargo space when needed.
The Mazda CX9's white interior adds a touch of luxury that will surely wow your passengers and make any trip memorable.
Hyundai Palisade
The Palisade is a three-row SUV with a luxurious and spacious interior. The white leather seating is available on the top-of-the-line Calligraphy trim level.
The Calligraphy trim has several other upscale features, including quilted leather upholstery, a suede headliner, and a digital instrument cluster. The steering wheel is also wrapped in matching leather material, and the dashboard and door panels feature contrasting wood trim accents.
The white interior provides a clean and modern look to the Palisade's spacious and comfortable cabin.
The Palisade's interior has received high praise for its comfort, quality materials, and user-friendly technology. Additionally, the Palisade has various other interior color options, including black, beige, and gray.
Kia Telluride
Kia Telluride is available with a white interior, but it depends on the trim level and color of the exterior.
The white interior is optional for higher trim levels, including the SX and SX Prestige trim. It's typically paired with a darker exterior color, such as Black Copper, Everlasting Silver, or Ebony Black, to create a stylish contrast.
The white interior is made from premium Nappa leather, which is known for its durability and softness. It covers the seats, door panels, and dashboard, giving the interior a clean, modern look. Some models also feature woodgrain accents and metal trim to enhance the luxury feel.
It's worth noting that the white interior may require more maintenance and cleaning compared to darker interiors, as it may show dirt and stains more easily. However, it can be a beautiful and eye-catching feature of the Kia Telluride with proper care.
BMW 7 Series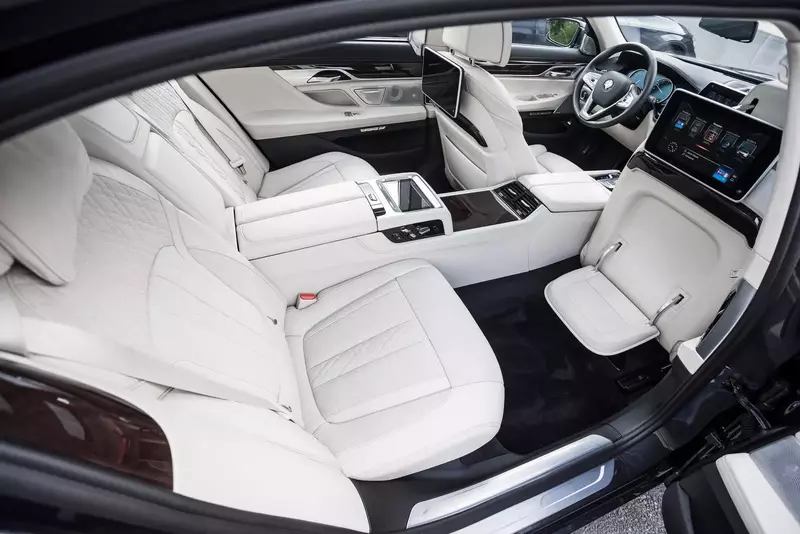 BMW 7 Series does come with a white interior option. However, it is not a standard color and may only be available in certain trims or packages. The white interior provides a luxurious and sleek look to the vehicle's cabin, with high-quality leather seats and accents.
The white interior is aesthetically pleasing and practical as it reflects sunlight, keeping the cabin cooler in hot weather. Additionally, the white interior option can make the cabin appear more spacious and bright.
Other interior options for the BMW 7 Series include various shades of leather, wood trims, and modern technology features, such as a touchscreen infotainment system and advanced driver assistance systems.
Porsche Panamera
The white leather interior is available in several shades, ranging from a bright, pure white to a more muted, creamy off-white. In addition to the white leather, the interior may also feature white stitching or piping for added visual interest.
The white interior option is available across the Panamera model lineup, from the standard Panamera sedan to the more performance-oriented Panamera Turbo S. It can be paired with a range of exterior colors, including traditional Porsche shades like black, white, and red, as well as more unique options like racing green and Miami blue.
Final Words
White interiors have become increasingly popular in cars due to their light and airy feel. Whether you're looking for something subtle or want to take a bold approach with your car's interior, white provides you with ample choice.
Not only does it create a sense of spaciousness within the cabin, but it also requires less effort to keep it clean.
White interiors provide a sophisticated and elegant look, offering drivers a boost of cool style.
Furthermore, manufacturers are now offering more durable materials for white interiors so drivers can enjoy this trend without worrying about maintenance or stains ruining the look.
With these advancements providing great value for money, there is no better way to upgrade your car's interior than to choose white.