Other than the Explorer, Ford has another lineup of SUVs that's pretty much beloved by everyone in the SUV community, and that lineup name is none other than the Expedition. Since its inception, the Expedition lineup has continued praising its comfort, reliability, and performance.
And now that we're in 2021, it's about time we talk about what we can expect from the 2023 Ford Expedition.
What's New?
One of the biggest changes in the next lineup of Ford Expedition is definitely on the engine department. Ford has been hinting that the future of their Expedition lineup lies in the electric vehicle.
Redesign Exterior
Other than the big news that is the electric shift-up for Expedition, the newer version will most likely have a redesigned exterior to fit in better with the modern world. We're expecting to see a slicker design and a brand-new front and rear fascia.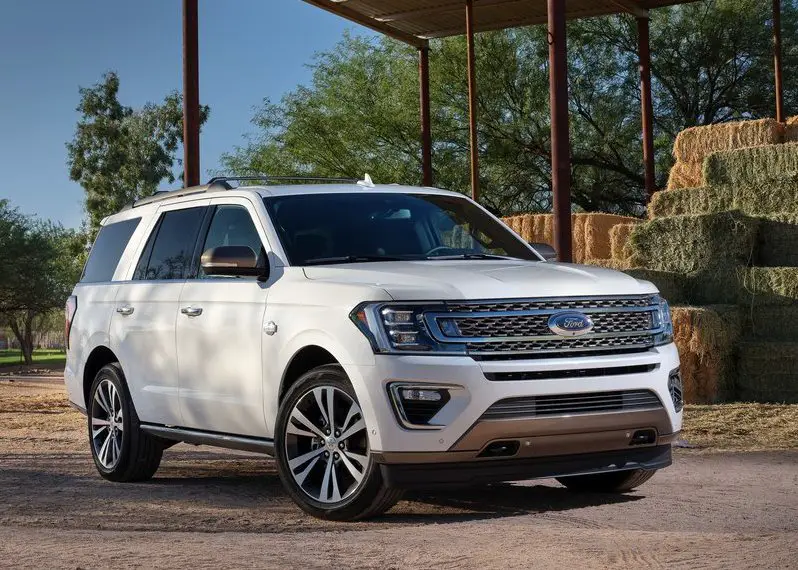 Interior & Features
While very comfortable and spacious on the inside, the Expedition suffers from a case of looking very dated for its interior. Some reviewers have even described the previous model's interior to be more plasticky than anything.
This is, of course, not a good look for Ford, especially since the material and look would only improve through upgrading to a next-tier trim.
This is why we're expecting Ford to focus on the design part of the interior and make it even nicer looking; Plasticky is not a good word to describe the interior of your car.
But other than that, though, the upcoming Ford Expedition will most likely be one of the most comfortable and tech-savvy SUVs you have ever sat upon. Especially with the rumored 15" infotainment touchscreen coming up.
Size & Dimensions
As we all know, the Expedition lineup consists of a fairly large SUV, and we're not expecting any differences from the newer version. The newer electric platform and powertrain might shake things up slightly, but it shouldn't change that much from what we know now.
So, if you're already familiar with the size of your 2021 Ford Expedition sizes and dimension, you're pretty much good to go.
But just in case people don't know or own a 2021 Ford Expedition, here are its size and dimensions, courtesy of Car and Driver:
Length: 221"
Width: 80"
Height: 76"
Engine Specs
As we've mentioned above, it's almost certainly true that the 2023 Ford Expedition will use an electric powertrain to fuel itself off the road. Because of this, we can't be quite sure as to what specific engine they will use.
But since there's also a possibility that they'll reuse the previous model engine for it, we're somewhat expecting the 2023 model to use the same 3.5l V-6 twin-turbocharged engine with some little tweaks here and there to make it fit in more with the modern SUV world.
Performance, Fuel Economy & Towing Capacity
While we can't be sure about its electric powertrain performance, we can still compare it with the previous model since it's possible to use the same engine again.
Which if that were to be the case, we're expecting the 2023 Ford Expedition to perform exactly like its predecessor with 5.9 0-to-60, 16/21 mpg fuel economy for both city and highway, and a whopping 9300 lbs towing capacity.
All of the scores that the 2021 model achieved are all pretty good by their standard, so we can only expect it to be even better if it were to switch to the more efficient electric powertrain.
Release Date & Price
Last but not least, let's talk about when and how much the 2023 Ford Expedition will be. As of the date, we're writing this article, and the 2022 model hasn't even been out yet. But, the 2022 model is expected to come out late this year. We can expect the 2023 model to do the same thing but next year instead.
As for the price, the Expedition lineup is already pretty pricy, even for SUVs standard. The 2021 model is sold at $52,290 at its base trim, and the 2023 model's base trim will be somewhere around $55,000 at the very least.
Anyway, that's all that we can say for this update on the 2023 Ford Expedition. We're honestly very excited to see the new and more modern exterior and interior design for the Upcoming Expedition.
Ford Expedition has been one of the best SUVs in the market overall, and we can't wait for what they'll give to us next year with the 2023 model.
And what about you? What are you most excited to see in the 2023 Ford Expedition? Will it be the more improved infotainment screen? Or perhaps the electric powertrain and platform?
Let us know in the comments about your thoughts and feelings, and that's pretty much it from us. Thank you for reading, and we'll see you next time.