You have made the best decision if you have decided to upgrade your vehicle to Jeep Wrangler. Apart from convenience and versatility, this vehicle gives an exceptionally well performance. This car is again on the roads with a vivid, eye-catching exterior.
Jeep Wrangler is available in a variety of colors. You will find both bright and bold colors in this model. You can get it in:
Gobi
Hydro blue
Black twill
Crushed red pepper
Granite grey
Crush orange
Xtreme purple pearl
Desert Sand Pearl
There are so many other shades that made it to the market. But, I will inform you about the best Jeep wrangler colors and the pros and cons of different hues in detail.
What Color Should I Get?
Red flame is the mighty classic shade that will never make you regret your decision. The red exterior gives another class to the jeep, making it stand out on the road. Though the jeep has been out in so many different shades of red, red flame took the hearts of fans. This blunt red takes you in awe every time you drive it.
Red cars are the most attractive. It is an intense color that shows passion. It is the shiniest with a considerable fan base when we talk about red flame. I assure you, you won't regret buying it.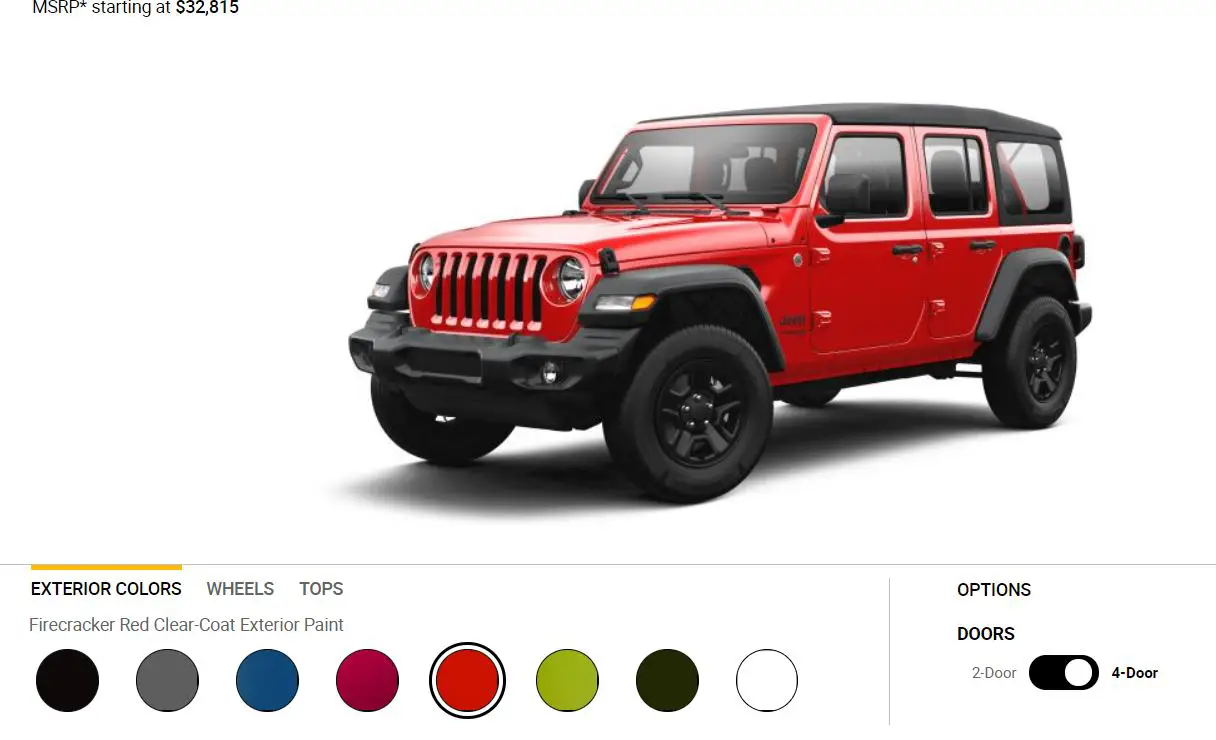 All-Time Best Jeep Wrangler Colors
Desert Sand Pearl
Anvil and desert sand pearl are two earthy-tone wranglers that look beyond amazing in deserts. The light shade of this car blends perfectly with nature that seems so beautiful. This color appeared in very old models of the early 2000s, but they are still loved for their distinct beauty.
Hydro Blue
You will love this hydro blue if you are into the blue oceanic shade and are more of a mountain driver. It is so cool and soothing to the eyes. There is no harm in using the hydro blue wrangler for daily use. It is easy to maintain.
Hydro blue exterior goes well with black accessories. These two colors make a fantastic combination. The color merges well with nature. A blue wrangler standing under a clear blue sky looks so mesmerizing.
Gecko Green
Being a fan of bright and neon hues, Gecko green made it to the core of my heart with its shine and class. If I considered a color the coolest, it would be Gecko green. This funky color looks terrific on Jeep Wrangler, but unfortunately, it was available for 2012 and 2013.
Dozer Yellow
Yellow jeeps are one of the most popular ones. The ultimately striking Dozer yellow mimics the bulldozer's color, thus the name dozer. This dozer is a combination of yellow and orange that gives a beautiful shade in between. It looks stunning, barging on the off-roads and mountains. You will love this color.
Again like the Gecko green, Dozer yellow was available for the years 2012 and 2013 only.
Crush Orange
If you are into vivid and pure colors that make your jeep stand out, crush orange is the way to go. The orange hue on Jeep Wrangler is just perfect for going off roads on mountains. There would be nothing wrong in saying I have a crush on this crush orange Wrangler.
Also, don't worry about its maintenance. It looks all clean and shiny even if you use it every day. Orange shining in the sun peeks out of this world. If you love to be distinct, get a crush orange Wrangler.
White
White Jeeps look stunning. White can reflect better and quickly hide the scratches, making it an even better choice. Considering this, white is an excellent option for a jeep wrangler. It is such an attractive color that it grabs the attention of many.
Compared to cars of other colors, white jeeps are easier to maintain. Just give it a good wash now and then to maintain it. Cleaning it regularly keeps it brand new for longer. So why not choose a white Jeep Wrangler?
Xtreme Purple Pearl
Out of all the standard colors that we see in almost every model, Jeep Wrangler is here with Xtreme purple pearl that is lavish and complete on its own. You can see this purple pearl twinkling from the far. This pure, elegant color makes the car stand out among all. There is no reason not to choose purple pearl for your vehicle.
The Jeep Wrangler Backcountry was introduced in purple pearl for the very first time. This color was a hit; everybody loved it so much that the manufacturers had to bring it back after a year.
Anvil
Jeep Wrangler is supposed to move off roads, so the car should have more earthy tones. With that said, we got Jeep Wrangler in another exciting color; gray. However, many gray cars get dull over time and lose their shine. But an anvil is made different. You will love how clean and shiny it stays long after you have used it.
Anvil jeep first ran on the roads in 2013, after which it again made its way to the streets in 2014 and 2015. So far, it is one of the most liked jeep colors among the fans.
Best Color For Jeep Wrangler 2022 Model Year
The Jeep Wrangler is available in 12 colors for the 2021 model year. Eleven of these need a $245 extra. Only the Bright White Clear Coat comes standard for all Jeep Wranglers.
Currently, the 2022 Jeep Wrangler is available in the following 12 colors:
Bright White Clear Coat
Black Clear Coat 
Granite Crystal Metallic Clear Coat
Sting-Gray Clear Coat
Billet Silver Clear Coat
Hydro Blue Pearl Coat
Chief Clear Coat 
Snazzberry Pearl Coat
Firecracker Red Clear Coat
Nacho Clear Coat
Hellayella Clear Coat
Sarge Green Clear Coat
The High Altitude is available in only five colors (Bright White, Black, Granite Crystal Metallic, Billet Silver, and Snazzberry).
The 80th Anniversary trim level of the Jeep Wrangler is available in ten colors, except Sting-Gray and Billet Silver. And the Wrangler 392's high-horsepower engine is available in just nine colors, excluding Hellayella, Chief, and Nacho.
There are at least three best colors for the Jeep Wrangler 2022 model year Firecracker Red Clear Coat, Granite Crystal Metallic Clear Coat, and Nacho Clear Coat. Although you must spend an additional $245 for that color option, it is well worth it.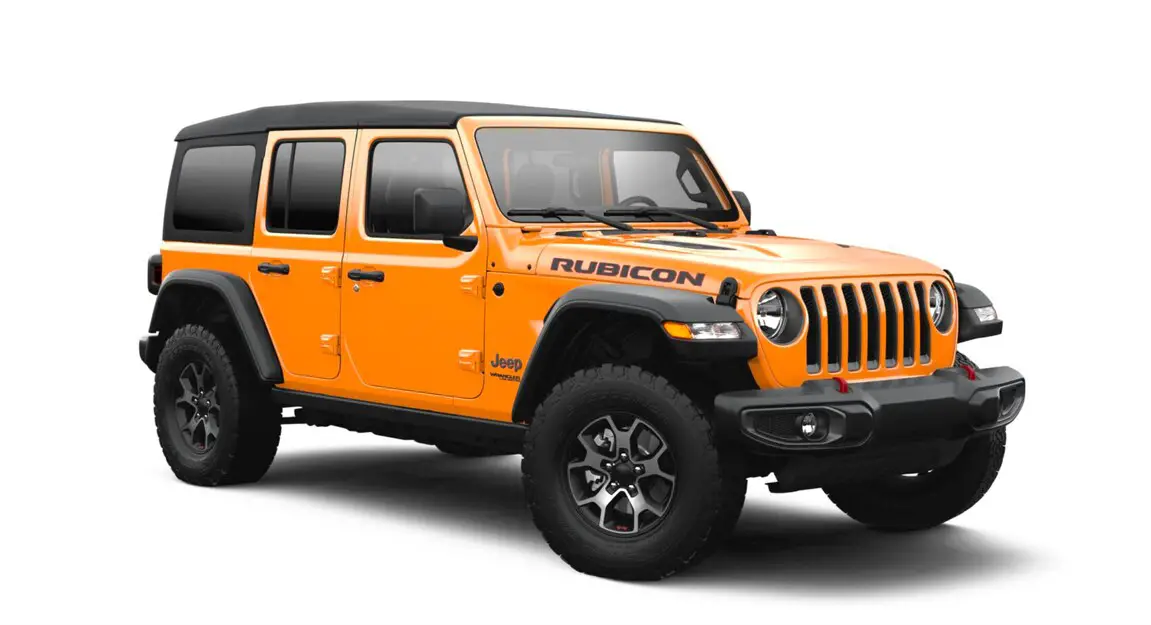 Final Words
Jeep Wrangler has been produced in some great colors. Most of them have never hit the market again, but Jeep fans cried their hearts out for those mesmerizing colors.
I worked very hard to put together the most loved Wrangler colors. The above-listed colors are trendy among Jeep fandom.
Wrapping it up, you can never say no to the colors included in the list though preference may vary from person to person. For me, flame red is the winner with the most vivid and shiny shade. I second the Xtreme purple pearl for the same reason.