When you use a pickup truck to transport goods, of course, you will consider a long bed. Trucks with long beds are undoubtedly beneficial in your work.
If you buy an 8-foot bed truck, it indeed allows more items to be carried. Especially if you want to travel long distances, of course, choosing a pickup with a large bed is the best.
So, What Pickup Trucks Have 8-Foot Beds?
Several pickup trucks have an 8-foot bed as an option on the market right now. They include:
Ford F-150
Chevy Silverado 1500 Regular Cab
Chevy Silverado Heavy Duty
Ford F250 Super Duty
GMC Sierra 1500 Regular Cab
Toyota Tundra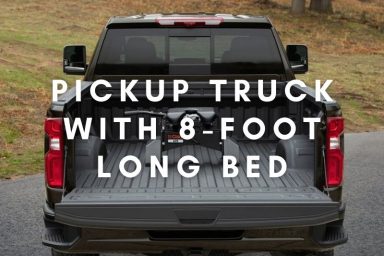 Ford F-150
all configurations on the Ford F-150 XL, XLT, and Lariat models choose an 8 ft bed length.
Everyone in the USA will consist of a Ford F-150 in their choice when they buy a pickup truck. Yes, that's the reputation of this truck.
The Ford F-150 starts at $29,290, and there are also finance deals starting at $407 per month for the 84-month term and 5.90% APR.
The Ford F-150 is quite powerful. The lowest trim is powered by a 3.3L V6 engine with 290 horsepower and 265 lb-ft torque.
Chevy Silverado 1500 Regular Cab
Residents of North America, it is no stranger to this one pickup car. This Pickup Truck can accommodate loads of up to half a ton.
The Chevy has a bed length of 8 feet for its WT trim level. You can get this long bed with a size of 4×4 or 4×2.
The engine is responsive, with a very sophisticated 2.7 L Turbo to 6.2 L V8. There are almost no flaws in this Chevy engine.
Here are the specifications of the Chevy Silverado 1500:
22 MPG city/ 33 Highway
277 Horsepower and 460 lb-ft of torque
10 speeds of automatic transmission
9,500 lb for maximum towing
Technology auto stop or autostart
Calm at the same time, Strong and dashing
Toyota Tundra
Toyota Tundra SR & SR5 models have 3-bed size options, 5.5 ft, 6.5 ft, and 8.1 ft.
Toyota tundra has several advantages that can make you sure to buy it. Besides having a choice of 8 feet long beds, Tundra also has other benefits, including:
Nice Amount of Power ( 381 horsepower & 400 lb-ft of torque )
Ready to Haul Cargo ( Towing Capacity up to 10,200 Pounds!)
Hit the Trails ( 4WD is Available )
Impressive Multimedia System (With JBL Speakers)
Staying Safe (Equipped With Toyota Safety Sense)
Toyota Tundra SR 4×4 Double Cab 8.1 ft bed size will cost you about $37,405, while the SR5 4×4 DC 8.1 ft bed costs you about $39,095.
Chevy Silverado HD
The Chevy Silverado Heavy Duty long-bed model has about 98.27 inches ( 8.1 ft ) of length, a height of 21 inches, and 50.55 inches in width.
Chevy Silverado has become one of the trucks with long beds that many people are looking for. This pickup truck can load 2500 to 3500 or three-quarter tons and full tons.
The Silverado HD is the strongest pickup truck. Because there are two heavy-duty dedicated powertrain options. The towing technology is also innovative and features a large and functional Durabed.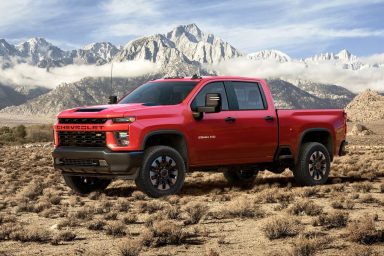 5 trim levels can be adjusted to your needs. This pickup truck has a maximum capacity of up to 18,500 lbs.
Some of the features available on this Silverado HD:
Diagnostic exterior trailer lighting
Trailer maintenance reminder
Tire pressure or temperature monitoring
Silverado HD brings innovative features to help deliver your experience in the trailering feature. Some of the trailering features found in this pickup truck are:
Electronic stability control system using control sway trailer
Crane Model
Digital steering assist available
Automatic braking
Gas engine 6.6 L V8 or Duramax 6.6 Turbo Diesel V8
This truck never disappoints and enables you to get the job done. Silverado HD is made using very high-strength steel and is very efficient to use.
This heavy truck is designed with seven different types of steel to make it stronger, more durable, and lift loads.
Ford Super Duty
Ford F250 Regular Cab, Supercab, and Crew cab have an 8ft bed length as an option.
The F-250 and F-350 are pickup trucks with a payload of three-quarters of a ton. Ford recently produced a new, more powerful pickup truck, the F-450.
These trucks with long beds can be your choice to get the job done. This Ford Super Duty has excellent engine performance.
It is available with a 6.7L Power Stroke V8 Turbo Diesel option and features 1,050 lb-ft of torque and a 7.3 L V8 gas and has the best power rating in its class.
Super Duty will achieve impressive towing and hauling capabilities with powerful gas and diesel performance ratings.
Ford Super Duty uses Ford Co-Pilot 360 technology. This technology helps your driving skills.
This technology can help you to give early warnings about potential collisions and help you stay alert along the way. This state-of-the-art technology will help you be in control while on the road.
GMC Sierra 1500 Regular Cab
The GMC Sierra 1500 Regular Cab SLE, Elevation, and SLT have a bed length of about 98.2 inches (8ft). This car is a type of car which implements the first carbon fiber composite technology in a pickup car.
The following are some of the features available on the GMC Sierra 1500:
Six Functions GMC Multipro Tailgate
Available 3.0 L Duramax Turbo-Diesel engine using a 10-speed automatic transmission or 6.2 L V8 Engine.
Diagonal heads-up display
MultiPro Audio System Accessory
Black chrome wheels
The GMC Sierra 1500 pickup is one of the most extended pickup truck beds that can be your choice. Can load up to three-quarters of a ton of goods. Then it will help complete your work.
Consider This When Buying a Long Bed Pickup Truck
Pickup trucks with short beds and long beds certainly have their advantages. Pickup with a short bed will be easier to drive and suitable for camping with the family.
But if you have a job carrying heavy loads, you need to buy a pickup truck with a long bed. The goal is that many items can be directly loaded.
Trucks with long beds are more challenging to drive and better to pull because the wheelbase of a pickup truck with a long bed is much wider than a pickup truck with a short bed.
The longer the wheelbase, the easier it is to control the trailer while driving. Another thing you need to consider before buying a pickup truck is what you will trick.
If you use the fifth wheel, you recommend using a pickup truck with a long bed to be easier and more stable.