Unlike other estates and the typical saloon traditional car, SUVs are a popular pick lately. In the old days, SUVs existed with diesel and gasoline engines. However, as days passed, SUVs came with an auxiliary electric motor inside, which we now know as Plug-in Hybrid SUVs. 
Hybrid powertrains are an emission-free driving experience, therefore making them popular in the market. Electric cars are popular globally because of their rechargeable battery and environment-friendly tags. 
Additionally, these hybrid cars' improvement minimizes petrol and electricity usage. Therefore, helping you save your money.
Below is the list of the best Plug-in Hybrid SUVs you might want to look at.
KIA Niro PHEV ($29,590)
The KIA Niro Plug-in Hybrid is the perfect compact crossover for those who need high mobility. The KIA Niro PHEV can cover a distance of up to 26 miles using battery only. This car is quite reliable in efficiency, with a record reaching 46 mpg combined, which is quite impressive.
Under the hood, the KIA Niro PHEV is equipped with a 1.6 L 4-cylinder and Full Parallel Hybrid System. A combination of a gasoline engine and an electric motor produces up to 139 horsepower.
The 240-volt charger takes about 2.5 hours to charge the 24.7 Ah battery from empty to full.
Ford Escape PHEV ($33,075)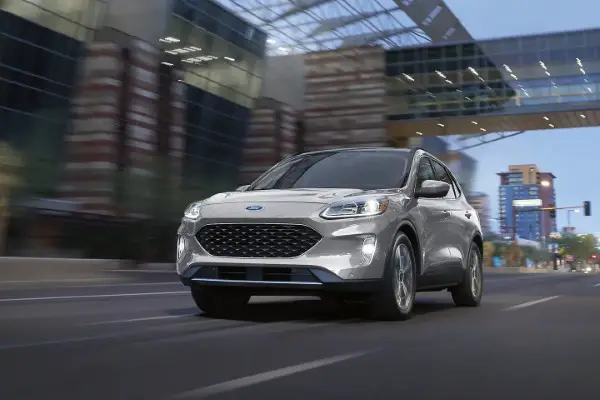 The Ford Escape Plug-in Hybrid uses a 2.5L 4-cylinder engine with an electric motor to provide an output of up to 221 Horsepower.
The battery capacity in this SUV is 14.4 kWh. It takes 11 hours to charge it from empty to complete with a 110/120V charger, but with a 220/240V charger, it only takes about 3.3 hours.
With a battery capacity of 14.4 kWh, the Ford Espace Phev can cover a distance of 37 miles battery-only.
The Ford Escape Hybrid price starts at $33,075 for the SE variant, $38,015 for the SEL version, and $39,830 for the Titanium version.
My recommendation is that you choose the SEL type. You get a Plug-in hybrid SUV with a fuel-efficient, spacious interior and easy-to-use controls for a reasonable price.
Subaru Crosstrek Plug-in Hybrid ($35,345)
The Subaru Crosstrek Plug-in Hybrid model gets a few changes to its appearance, namely the restyled grille and front bumper.
Some of the advantages found in the New Crosstrek include good fuel consumption, composed ride, and handling, many standard safety features, and also has an EyeSight driving assistant.
The price offered by Subaru for the New Crosstrek is quite expensive, starting at $35,345, but it's worth what you get.
Mitsubishi Outlander PHEV ($36,295)
The 2022 Mitsubishi Outlander PHEV will combine a 2.4L MIVEC DOHC petrol engine and a 60kW electric motor. The total power produced by both reached up to 206 horsepower.
The electric motor of the Outlander PHEV is powered by a 13.8 kWh lithium-ion battery that can cover a distance of 24 miles in full EV mode.
The Outlander PHEV has Snow and Sport Modes. With great power and S-AWC technology, this SUV can easily pass through rugged terrain like snow.
Plenty of power, Complete Features, Low CO2 Emissions, Fast Charging, and S-AWC technology are some of the advantages of this SUV. You can get the Mitsubishi Outlander PHEV today, starting at $36,695.
Fact: The Mitsubishi Outlander PHEV is the best-selling plug-in hybrid in the world. Through December 2020, global sales surpassed 270,000 units.
Toyota RAV4 Prime ($38,250)
With a starting price of $38,250, the Toyota RAV4 Prime is one of the most affordable PHEV SUVs today. This SUV is capable of traveling up to 42 miles battery-only.
Combining a 2.5L 4-cylinder engine with an electric motor can provide a total power output of 302 horsepower. The battery embedded in the RAV4 Prime is 18.1 kWh. Using a public charging station (240V), the RAV4 Prime can be fully charged in 2 hours and 30 minutes. It takes 12 hours to use home electricity.
In addition to powerful engine performance and impressive fuel efficiency of 40/36/38, the RAV4 Prime is also equipped with various advanced features as a standard. You can never go wrong choosing the Toyota RAV4 Prime.
Audi Q5 Hybrid ( $44,100 )
The Audi Q5 is one of the best-selling models from the German car manufacturer. Audi continues to refresh its products to maintain its existence, including the SUV Compact 2022 Audi Q5. In this update, Audi adds a Hybrid too.
Variant Audi Q5 Plugin Hybrid is powered by an electric motor by a 2.0-liter inline 4-cylinder engine. That combination produces 362 Horsepower and 369 lb-ft of power. The price of the New Q5 starts at $44,100
Jeep Wrangler 4Xe ($49,805)
The Jeep Wrangler is a very iconic SUV occasionally, and the Jeep Wrangler 4xe comes with something special. Starting at $49,805, this SUV is worth buying; some even say you must buy it.
The same engine powers the Wrangler PHEV as the traditional Wrangler, a turbocharged 2.0-liter 4-cylinder gas engine paired with two electric motors.
That combination produces total power of up to 375 horsepower and 470 lb-ft of torque.
The electric motor in the Jeep Wrangler 4Xe is powered by a battery with a capacity of 17.3 kWh. It can cover up to 22 miles in EV mode with a single charge, which only uses the battery as its power source.
Every Wrangler 4xe is delivered with a Level I (120V) charging system plugged into a typical household outlet. You can get an even faster charge with an available safe, simple-to-use Level II (240V) charger. The Level II charger can fully charge the Wrangler 4xe battery in approximately 2 hours versus 12 hours when using a 120V charger.
Jeep Wrangler 4xe is available in 3 variants, Sahara 4Xe with an MSRP starting at $49,805, Rubicon 4Xe with an MSRP starting at $53,595, and the most luxurious High Altitude 4Xe starting at $55,625 ( MSRP). You can even lease this SUV starting from $465 monthly for 48 months.
Lincoln Corsair Grand Touring PHEV ( $51,385 )
The Lincoln Corsair Grand Touring PHEV is one of the newest PHEV SUVs on the market. The Lincoln Corsair Grand Touring was priced at $51,385, slightly less than its competitors such as Volvo, BMW, and Audi.
This luxury SUV can cover 28 miles (45.1 km) with battery only. Under the hood is a 2.5L 4-cylinder engine mated to a permanent magnet synchronous electric motor and a PowerSplit electric continuously variable transmission. Combining the two produces a total power of 266 horsepower (198 kWh).
The battery is the same as that used in the Ford Escape (For Kuga in Europe), 14.4 kWh.
Lincoln Aviator PHEV AWD ($52,090)
Lincoln Aviator, an American-style mid-size luxury SUV. He is stylish and comfortable, with an exclusive feature like his big brother Lincoln navigator but with more compact, more agile dimensions.
In this latest version, you can choose a hybrid version that uses a V6 engine combined with a 100-hp electric motor with a 13.kWh battery. The combination produces 494 horsepower and 630 pound-feet of torque.
Volvo XC90 Recharge T8 ($63,450)
The elegant seven-seatings in the 2022 Volvo XC90 are well known. Therefore, attracting family-oriented audiences to look at the Volvo XC90 on whether to have it in their garage.
Still, the competitors are raring to go and might defeat the Volvo XC90 in some parts. Therefore, the second-generation Volvo XC90 has more entertaining features, is less dangerous, and prioritizes family safety.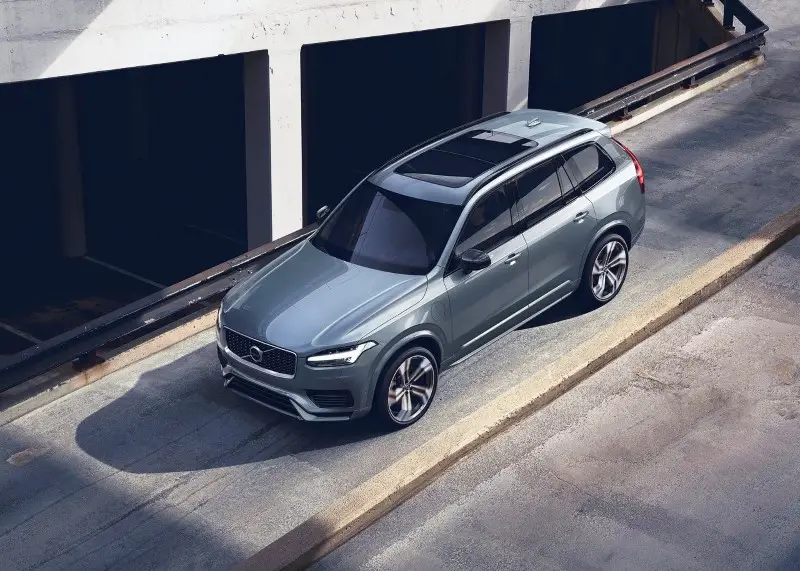 Since it prioritizes family safety, it delivers a low revs pull so that it's relaxing for the whole family. This car is relatively not a very fast car like the Cayenne Porsche. This car engine rivals the famous BMW X5 and Audi Q7, although they offer a better driving experience than Volvo.
The interior is comfortable for the whole family to enjoy and relax. All XC90 versions have adjustable lumbar support and driver seat electric adjustment. Therefore, it makes it easier for passengers and drivers to get comfortable quickly.
Unfortunately, climate control and other infotainment systems are accessible only through a small touchscreen near the steering wheel. Luckily they add voice control in exchange for the small touchscreen pad.
BMW X5 xDrive45e ($65,400)
BMW X5 is one of the luxurious SUVs that you might want to take a closer look at. This car provides comfortable driving experiences for both passengers and drivers. Therefore, it sacrifices the sporty look and rock-climbing skills to create a luxurious and comfortable car interior.
Compared to the Audi Q7, the BMW X5 engine is more responsive and offers outstanding performance. It can reach from 0 to 60 mph in a matter of seconds (5.1 seconds to be more exact). The powerful plug-in hybrid electric motor and the big battery deliver speedy performance. 
However, the unsettled rides can be pretty annoying to deal with. BMW X5 also has a problem with suspension and road noises that might be earful experiences for drivers and passengers. 
Bentley Bentayga ($160,000)
The British luxury car brand updates its high-end SUV with its styling, interior, tech, and new engine options.
Under the hood, the new Bentayga is powered by a 3.0 V6 engine and a 17.3 kWh lithium-ion battery. The combination ICE engine and electric motor produce power up to 443 horsepower. This iconic luxury SUV can accelerate from 0-60 mph in 5.2 seconds ( 0-100 km/h in 5.5 seconds)
The price starts from $160,000, it's a pricey vehicle, but it's a Bentley.
New Porsche Cayenne Turbo S E-Hybrid ($165,300)
Macan and Cayenne are pretty popular brands with high sales. Cayenne is not slow, and there is no word about slow Cayenne. Cayenne can accelerate from 0 to 60 mph in a flash, or you could say a matter of seconds. Therefore, this model boasts its engines to rival the others. 
The Cayenne E-hybrid's speed and acceleration are significantly better than the S version. This hybrid SUV is one of the fastest plug-in hybrids in the market.
The interiors are luxurious and comfortable for both drivers and passengers. The infotainment systems, fan controls, and temperature are easy to find.
There are ample spaces for passengers, and even the loftiest adults can fit in. The interior is quite similar to Audi Q7, although Audi Q7 has better comfort than Porsche Cayenne. 
The drawback is pretty simple for Porsche Cayenne. It can hide its speed too well, becoming quite problematic. Especially the Porsche Cayenne Turbo E-Hybrid that can build rapid speed in a matter of seconds, it can reach legal limits faster than you might think, and the chances are even the driver didn't realize it.
In other words, this SUV is not suitable for a relaxing ride around the town. Adrenaline seekers would love to have this car in their garage, though. 
Final Word
You might be into a family-friendly car more than a sporty one depending on what person you are. Some even prefer sporty SUVs to family SUVs.
In the end, car types and specs depend on individual preferences. So which best plug-in hybrid SUV 2023 lineup do you want to buy?