Sparco wheels are the result of a partnership between two brands, Sparco itself and OZ Racing, both of which are well-known brands. Sparco provides a collection of alloy wheels with a distinctive Italian design made with high-quality materials. Are Sparco wheels good? You can find out through this article.
What are Sparco Wheels?
It's not just the high-quality materials and Italian design that make Sparco wheels the target of many riders. OEM technology is used to construct Sparco wheels, and exclusive series with the best racing performance is available. The Sparco wheels range is TÜV certified.

But what makes Sparco wheels more popular is that they are made by OZ Racing in Italy. Italian quality and fashion have been approved by many people, so they can ensure that the Sparco wheels range is an outstanding product. If you want to have a rallying spirit, you can rely on Sparco wheels.
There are many aspects that Sparco wheels excel in, from quality, design, appearance, and performance. 2009 was the year when O.Z. Racing and Sparco announced a partnership to produce the finest collection of Italian heritage wheels. Their dedication is to produce the best products with O.E.M. construction.
In addition to the TÜV certification, Sparco wheels have also been evaluated with the biaxial LBF test. Extensive testing is done for each Sparco wheel, with cardiovascular tests up to 15,000 km. Safety and security are also aspects that are built into every Sparco wheel product.
Is it Worth Using Wheels From Sparco?
Are Sparco wheels good? Many people have ridden with Sparco wheels. Most of them are doing just fine without any serious problems. Sparco Wheels provides excellent products and can benefit riders.
With promising partnerships, Sparco can produce wheels that are suitable for racing. In addition to being reliable for racing, Sparco wheels can also meet your daily driving needs.
The high quality of Sparco wheels comes from the OZ technology process with Gravity and Low-Pressure Casting technology. Low-pressure casting, heated to 700°C, is molded. Then injected into the bottom of the mold with low pressure. Until the top. That is the process that makes Sparco wheels one of the highest quality.
The process can guarantee a quality finish as the final product. In the manufacturing process, the casting does not cause porosity and joints. The resulting grains are also dense and smooth.
Sparco Wheels, Engineered By OZ
OZ plays an important role in ensuring the quality of Sparco wheels. If your question is, are Sparco wheels good? Then the answer is yes. Here are some of what OZ offers for every Sparco Wheels product.
Italian Design
OZ designs Sparco wheels with the utmost innovation and creativity. The OZ formula exemplifies a truly authentic concept that brings Italian excellence to the wheel world. The OZ formula for Sparco wheels sets the standard for the best in Italian design concepts and is inspired by the world of racing.
Technology
Each Sparco wheel collection is developed, designed, and tested based on the racing DNA of OZ. Sparco wheels are an expression of "winning" and are made with cutting-edge technology. OZ designs wheels that pay attention to every detail in design and materials to provide the best innovations.
OZ's championship titles and victories testify to the quality of OZ's well-designed Sparco products.
Quality
Since OZ is engineering for Sparco wheels, it can be an added value to support the quality of the product. Not only are they made with cutting-edge processes, but because of OZ's presence, many technologies and treatments have been developed very well and exclusively.
Their commitment is to deliver products that are top performing and safe. Every raw material is tested for quality so that what consumers use will be an exceptional product.
Certification
Certification is another tangible proof of this business to guarantee customer satisfaction and product quality. Sparco wheels products are made by applying the highest standards, and all products have been tested according to the strict guidelines of international certification bodies.
Sparco wheel certifications range from TUV, JWL, NAD, and UN/ ECE 124.
While internal standards are also very strictly set by OZ. All Sparco wheels are TÜV certified for quality assurance and have passed internal tests for overall high quality.
TPMS
The wheel market is advancing so fast a series of standards govern the sector. Several "rules" must be followed by dealers for products to be of the highest quality and safe when used by consumers. Since 2014, European regulations have required all cars to be equipped with TMPS.
Sparco Wheels Lineup
Sparco offers over 10 models with various concepts, including racing and off-road options. Here are some of the latest models from Sparco Wheels.
GRAVEL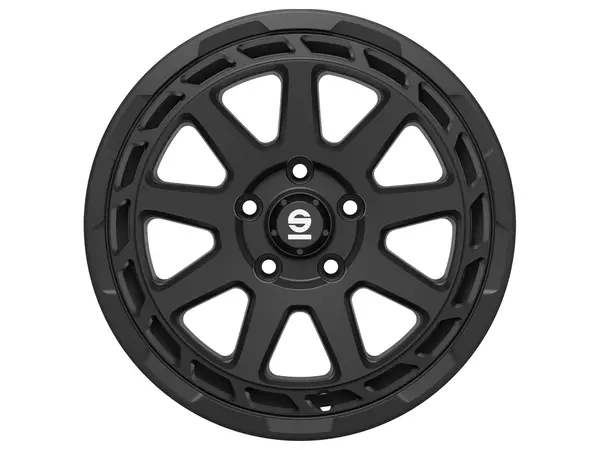 Specs:
Model: Monoblock
Colors: Matt Black, Matt Graohite, and Rally Bronze
Design: Off-road
Diameters: 17″ and 18″
Width range: 8
Holes: 5
Profiles: Flat
Offset Range: 35-48
TERRA
Specs:
Model: Monoblock
Production process: Heat-treated material
Colors: White, Gold, Matt Black
Design: 11 spokes
Diameters: 17″
Width range: 7 – 7,5
Holes: 4 – 5
Offset Range: 25 – 50
DAKAR
Model: Monoblock
Production process: Heat-treated material
Colors: Matt Black
Design: 10 off-road multi spokes
Diameters: 17″
Width range: 7,5 – 8,5
Holes: 5 – 6
Offset Range: 0 – 42
Conclusion
Sparco Wheels is already one of the famous brands that produce wheels with the best designs. OZ Racing plays a major role in producing Sparco wheels in Italy. OZ Racing and Sparco formed a famous partnership to make their wheels collection truly race-ready.
But Sparco wheels are also suitable for everyday use on the on-road or highway. Sparco wheels design is typical of Sparco motorsport; you can see it clearly in every product design.
Are Sparco wheels good? The answer is yes, especially if you need high-quality racing wheels with a distinctive Italian concept.