This Korean car company has made some nice changes to this SUV model. Some of those changes can be seen in the exterior design, making the car look more contemporary while being different from its competitors.
One of those exterior changes is in the range of colors this SUV comes in. The question is, which one is the best color for this vehicle?
This decision may not be all that easy as there are nine different and unique colors to choose between. The following nine colors are available on most of the Tucson trim options:
Intense Blue
Quartz White
Shimmering Silver
Portofino Gray
Red Crimson
Calypso Red
Phantom Black
Amazon Gray
Deep Sea Blue
What is the best 2022 Hyundai Tucson color?
The Deep Sea, Quartz White, Calypso Red, and Portofino Gray are the top color choices for the Hyundai Tucson. The only drawback to these selections is that some of these colors cost extra to have painted on your new car. However, the cost is reasonable and worth the extra expense.
Trims, Color Availability & Cost
When Hyundai decided to upgrade their new Tucson SUV, they ensured you had plenty of choices. There are four trim designs to choose from- the SE, SEL, the N-Line, and the Limited. What is a little disappointing is that the above colors are only available on the SE, SEL, and Limited trim models.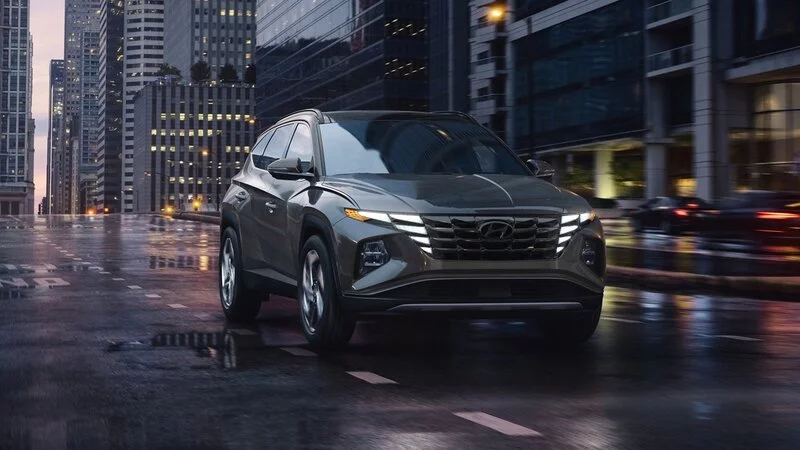 Also disappointing is that the N-Line option only has a few color options to choose from- Phantom Black, Red Crimson, Quartz White, and Portofino Gray. Expect to pay roughly $400 extra if you choose the Quartz White and Calypso Red colors.
But there is some good news in all of this. The N-Line is the only trim option with a Red Crimson color as a standard and free paint.
What Color Should I Get for 2022 Hyundai Tucson?
One of the great things about Hyundai is that they have selected the perfect colors for their new Tucson model. They complement the body style of this vehicle and make it look fantastic and feel lovely.
In my opinion, here are the top 5 colors that look the best on the Hyundai Tucson
Red Crimson
It is a popular color, and it seems to be tempting its owner to push the envelope. While it is a free and standard color, it is only available on the N-Line models. But that delicious red color makes the N-Line model look luxurious.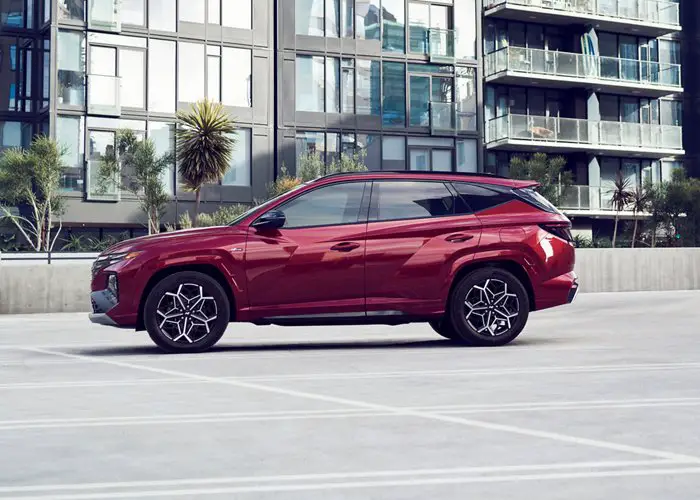 Combined with a black grille and two-tone alloy wheels, you have a real winner of a car.
Quartz White
When you want a nice safe color that seems to hide the dirt and light scratches as well, this is the color I recommend. This color presents a look of fine jewelry, elegant, luxurious, beautiful, and has a calming effect.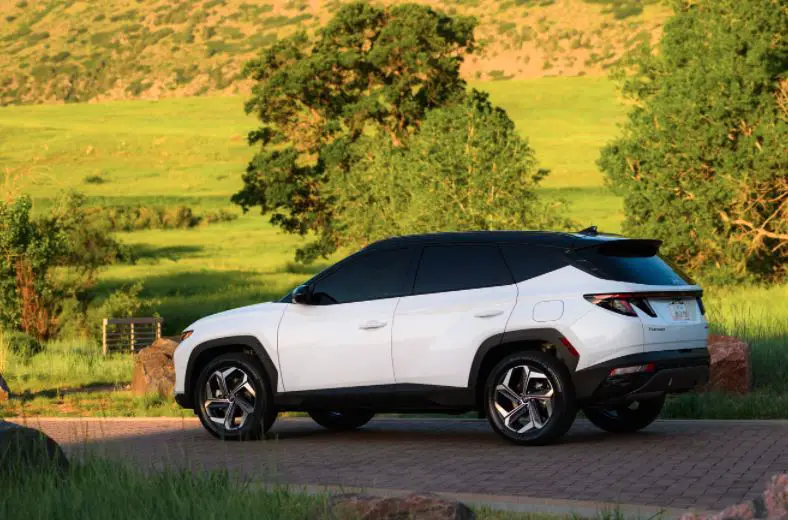 While this color is available on all trim options, it will cost you an extra $400 to get it.
Calypso Red
This is the red alternative for the SE. SEL and Limited trim models. For some reason, Hyundai limited the Crimson Red to the N-line only, but that is okay. This lighter red does all these cars justice and gives them that same tempting allure.
Along with the Intense Blue, this red is a very bright color making it easy to find in a crowded parking lot or low light conditions.
Deep Sea
If you haven't figured it out yet, this is a very dark blue color with a metallic influence. After the sunset, this color will look like a solid black vehicle and give it a mysterious tone. But wait for the direct sunlight. At that time, you will see how this deep blue shade pops, especially with its sparkly speckles.
Portofino Gray
This is the color that makes your new Tucson look sturdy and robust. I like the gray color as it adds something special to the vehicle's look. When Hyundai showed some teasers with the color in this color, many other people agreed with my taste. They liked what they saw.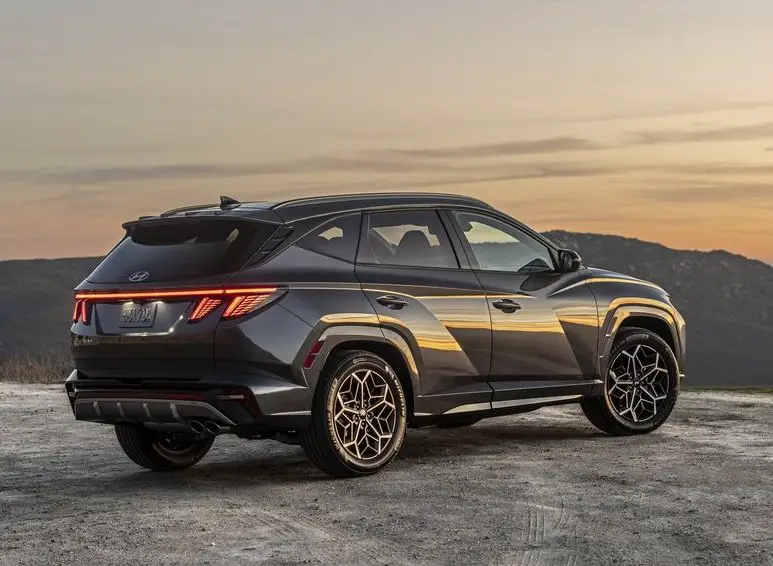 Add in the black interior and the 19-inch alloy wheels, and you have an unbeatable combination. It looks that good.
Some final words
Choosing the right color can be complicated and confusing. They all look so good. But the final decision is yours. All I can do through this article is provide you with the correct information to make your choice a little easier.
Choosing a car color can be influenced by a variety of factors. I've made an article about choosing the best car colors from various points of view. Please read: best color for a car.
No matter which color you choose, you pick the best one for you. That is what makes you the happiest, you deserve it.