It goes without saying, but new cars usually look great in white. In addition, the color white looks good on many vehicles across the automotive spectrum, from small superminis and station wagons to large SUVs and high-performance sports cars.
Another point in favor is that the white color matches all the colors; thanks to this, all the colors I consider putting inside will look good. Despite this, different colors will make a white car acquire additional touches of elegance, flashiness, or luxury.
So, Which Interior Color Should I Pick to Go With My Car?
Brown, Dark Red, Black, and Beige are safe for white car interior colors. Additionally, you can blend many color schemes for a more pleasing appearance, such as brown with black or red with black. Brown with natural wood motifs also works well in a white car interior.
In this list, I will present a list of all the colors that will highlight and make a white car much more attractive and help you choose the best interior paint for a white car.
Black
I start with our list of the most common color in most cars today. It is not surprising that it is the most chosen since it gives a car a touch of elegance and sobriety.
A black interior will contrast harmoniously with the white-painted car. This is because white combined with black looks excellent for everyone.
A black interior will make your car always look like it was freshly cleaned. Another point in favor of the black color is that the dirt will be much less noticeable. This does not mean we will have to clean the car less since maintaining good hygiene and taking care of the material from which our car is made is very important always to look shiny.
In addition to all this, I can also say that the black color is very versatile to look good on all types of cars. With this, I mean that it does not matter if I put it inside a family car, a two-seater, or a sports car.
One of the disadvantages of having a car with a black interior is that it will make the seats much warmer on hot days and the dashboard and all the upholstery painted in this color make it much warmer inside.
Another point from the point of view of some people is that it is a too standard color, but this does not mean that it will look bad.
Dark Red
This is one of the colors that attract the most attention inside a car, especially in a white car.
The color red combines very well with white to give your car a touch of luxury and power.
Although it is one of the most used in all types of areas, this color is not as common in covering a car's upholstery since it has become fashionable in recent years.
When it comes to cleaning, this color will also hide dirt quite well as it is dark. It won't do as well as black, as this is darker but still pretty clean.
This color has a few things against it; perhaps one of them could be that it does not fit all vehicles. This color will work best in spacious or sporty-looking cars.
Brown
The brown color will also look perfect in the interior of a white car since they are two very natural colors that combine very well together.
The brown color gives a feeling of comfort and will make our car look much more welcoming. Also, the brown color gives the impression of gravity balance.
One of the cons of the black color in the car's interior is the issue of cleanliness. The brown color makes stains and dirt more noticeable than the above colors, but it will look good if you clean it regularly.
Another disadvantage of the color brown is that, like the color red, it is not as versatile as the color black, and we will have to make sure that it will look good depending on what type of car we want.
Combining is also an Option
I cannot deny that combining some of these previous colors will work very well. A point in favor of the combinations is that we can have two different colors and make the car's interior less monotonous and boring.
One of the combinations that will be best in the interior of a white car will be the color black with the color red. With this combination, the ideal will be to leave the red color for the seats and some details of the upholstery and the rest of the interior in black.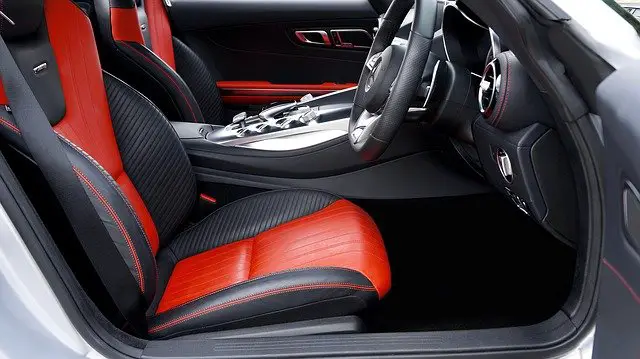 Another undeniably successful combination will be that of brown with black. You should not think much about what color to put in each part in this combination since these two colors will look good both on the seats, dashboard, steering wheel, and upholstery door trim.
You have to consider that the brown in this combination will be a slightly dark shade, as this will not make a lot of contrast with the black color.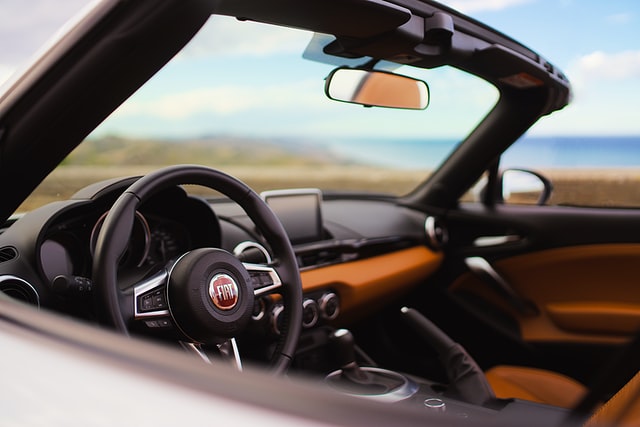 Generally, these two combinations will be pretty good at hiding stains since they are made up of dark colors. Although the most problematic aspect is brown, when combining it with black, I have already said that you will have to choose a darker color.
A combination of these colors has practically no disadvantages. The worst thing that can come out when combining is that the final result is not what you expected, but I have recommended these combinations will look great in a white car.
Color To Avoid
I don't think it's a good idea to choose too light colors, like white or ivory. Only it will be hard to clean.
Most people think that bright colors are better at hiding dirt. It's just that it will be hard to get rid of when the dirt is already there. You need to go to the detail shop to do that.
Final Word
All the colors I mentioned inside the car will combine incredibly with the white paint on the outside. You must know what color suits your car type without forgetting to consider your lifestyle and personality to choose the one that best suits your car and yourself.
After reading this article, I hope you have gotten some ideas to help you choose the best color for your white car interior.