In recent years, automakers have been competing to release lighter and slimmer cars. So, the car is more agile, fuel-efficient, and easier to drive on busy roads. However, some automobiles still have bold bodies, and some are even the heaviest SUVs.
The large SUV category has spacious cargo space, a large passenger capacity, and a burly engine.
Therefore, although many SUVs now have aerodynamic designs, large SUVs cannot be ditched. So, if you are a large SUV lover, here are the heaviest SUVs that are interesting for you to know.
GMC Yukon Denali XL – 6,100 Pounds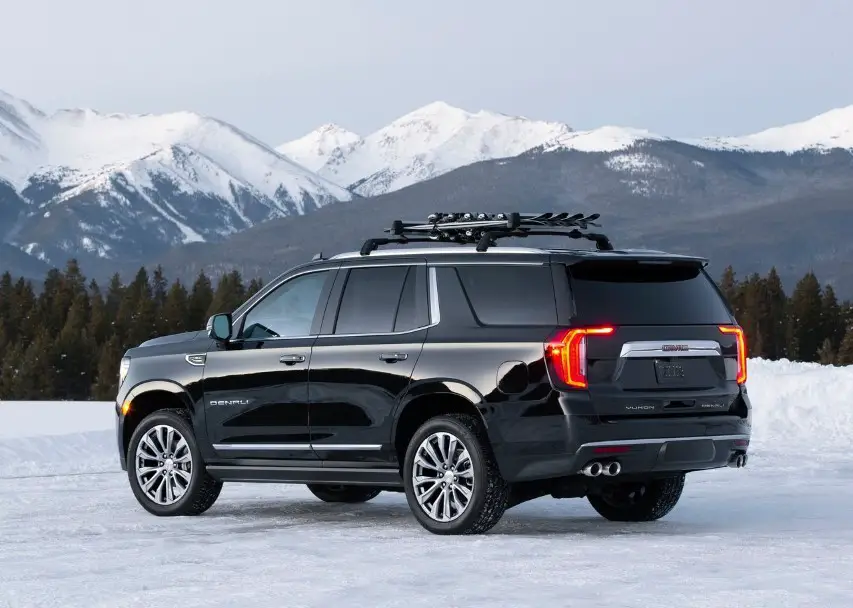 The weight of the top-end GMC Yukon Denali XL is 6,100 pounds. That's why this car is included in the list of the heaviest SUVs. Yukon Denali XL has 7, 8, and even nine seats, depending on the configuration.
The standard model of this car has rear-wheel drive wheels, but four-wheel drive is optional.
The Yukon Denali XL is 20 inches longer than the Standard Denali Yukon, only 19 feet long. So, Yukon Denali XL has ample cargo space. The car's inside is also large and comfortable, with leather seats that give an exclusive impression.
Cadillac Escalade ESV – 6,088 Pounds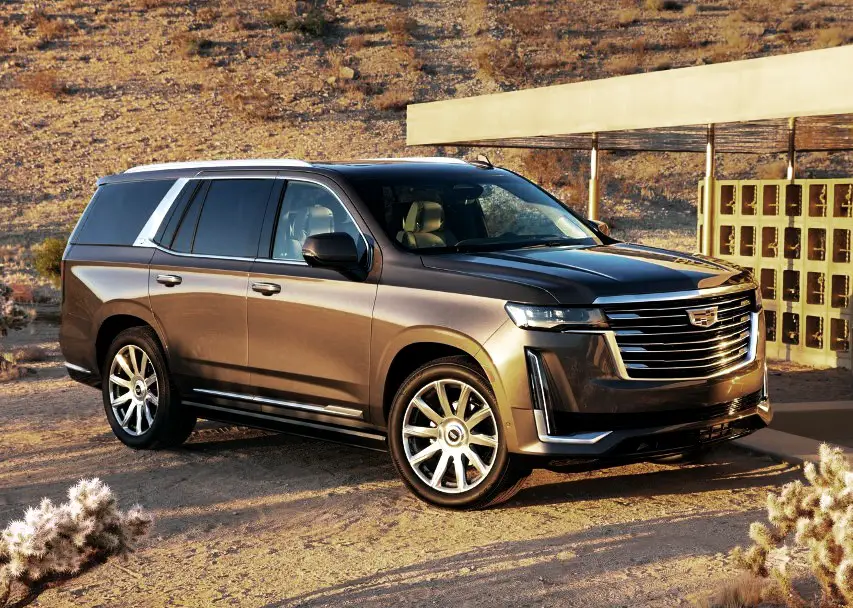 Featuring a 6.2-liter V-8 engine, the Escalade ESV is one of the heaviest SUVs of 2020. This car can accommodate up to eight passengers with second-row seats.
If the captain's seat is optional, it can drop the count to just seven seats. Moreover, this SUV weighs 6,088 pounds with a massive 31-gallon fuel tank capacity.
This SUV is large yet comfortable with full leather seats. Besides, this car entertainment feature is complete, with a 16.9-inch infotainment screen and an integrated smartphone system, Apple CarPlay and Android Auto. The standard model of this car has rear-wheel drive, and four-wheel drive is optional.
Lexus LX 570 – 6,000 pounds
This car has a 5.7-liter V8 engine, which can produce 383 horsepower. Moreover, this machine has an eight-speed automatic transmission with pretty good acceleration.
The Lexus LX 570 is one of the heaviest SUVs because it weighs 6,000 pounds and is 16.7 feet long. Despite its weight, this SUV gets an EPA estimate of 16 mpg on the highway and 12 mpg in the city.
The standard LX 570 has two rows and five seats but can be configured into three rows and an eight-passenger capacity.
There are two standard rows with 53.7 cubic feet of cargo space behind the rear seats. As for the three-row model, the cargo space is 16.3 cubic feet behind the back seat.
Toyota Sequoia – 6,000 pounds
Compared to other large SUVs, the Sequoia is an outdated SUV. The Sequoia lacks comfort features, weighing 6,000 pounds, almost the same as its competitors, so the ride becomes unstable.
Hence, it has a pretty lousy mpg rating. However, if you are looking for a large SUV with a roomy interior and a powerful engine, the Sequoia is perfect.
Space is 18.9 cubic feet behind the third row and 66.6 cubic feet in the second row, giving this car a generous seat row.
The vehicle is equipped with a robust V8 engine with decent off-road capability. Unfortunately, this car has an outdated infotainment system with a plastic-looking cabin design.
Despite weighing almost 6,000 pounds, this SUV can move at an impressive speed. It is one of the heaviest SUVs at 5,922 pounds and is equipped with a twin-turbocharged V6 engine.
Thus, this car can produce 450 horsepower and 510 lb-ft of torque. So, getting around the city becomes an easy job for this SUV, and you can spend your time inside a luxurious cabin.
The navigator can accommodate eight passengers with a large enough cargo capacity. Moreover, the car can tow up to 8,700 lbs but drops to 8,300 lbs with a four-wheel drivetrain.
Rolls Royce Cullinan – 6,069 pounds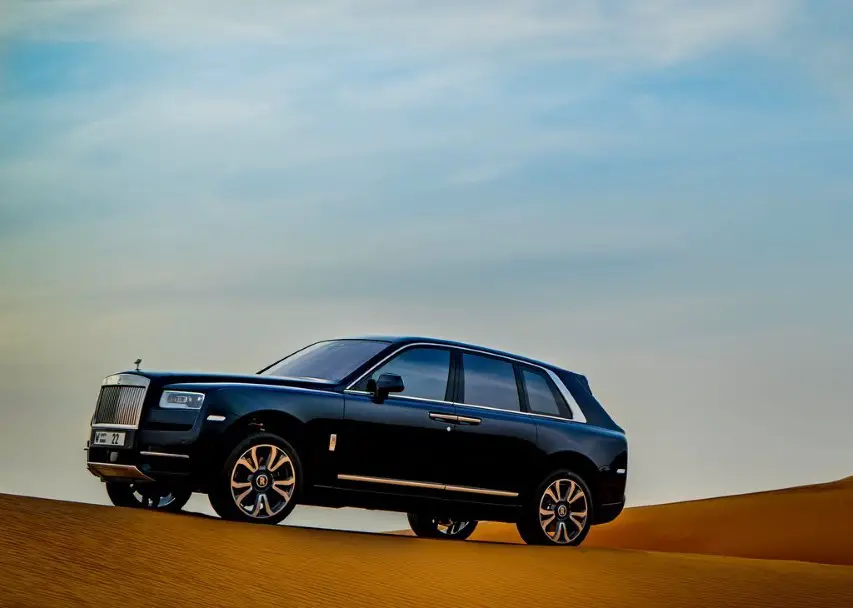 If you are looking for a luxury SUV in a large size, Cullinan can be the right choice for you. This SUV weighs 6,069 pounds and is 5.3 m long, 2.1m wide, and 1.8m high.
A large 6.8-liter twin-turbo V12 gas engine makes this SUV the heaviest SUV. However, this engine makes this SUV produce 563 horsepower to have an incredible acceleration time.
Cullinan is quite agile despite its heavy weight because it has intelligent suspension technology.
Due to the sophisticated suspension, the steering and handling systems and body control are excellent.
Moreover, having a large model, Cullinan still looks luxurious and exclusive with impressive performance.
Chevy Tahoe – 5,845 pounds
The Tahoe weighs 5,845 pounds but can be a giant SUV you can count on. This is because, despite its large size, this car is straightforward to maneuver. Tahoe has three engine options, including two V8s and a turbo diesel, saving fuel consumption.
You will be very comfortable driving this car because of the large passenger and cargo space.
Moreover, the intuitive infotainment system and outstanding engine performance make this SUV one of the most impressive and heaviest SUVs.
Rivian R1s – 5,842 Pounds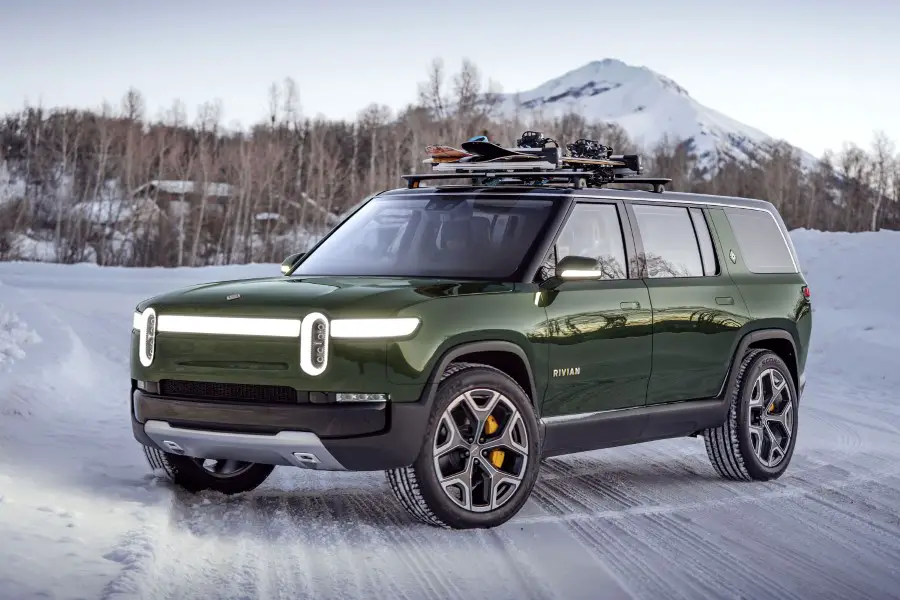 The new electric vehicle manufacturer based in Michigan released the Rivian R1S, which aims directly at the Tesla Model X.
Based on the price, the R1S is cheaper than the Tesla Model X. The R1S is available in three battery sizes, 105.0-kWh, 135.0-kWh, and 180.0-kWh. The largest battery can have a driving range of up to 410 miles.
Weighing up to 5,842 pounds, the R1S can tow more than 7,700 pounds. The front trunk of this car measures 12 cubic feet with a large rear cargo area. So, if you are looking for a large SUV with a futuristic exterior and contemporary interior, the R1S is perfect.
Infiniti QX80 – 6,085 Pounds
The QX80 has a burly V8 engine capable of agile movement. It accelerates fast enough with solid engine performance. Weighing 6,085 pounds, the QX80 is one of the heaviest SUVs but still comfortable to drive for a large SUV.
Besides, the first and second-row seats can make you comfortable, but the third row is relatively narrow. However, if you are looking for a big, luxurious SUV, maybe the QX80 isn't the right choice. The exterior and interior are pretty disappointing and somewhat out of date.
You already know the list of the heaviest SUVs that might be perfect for you. Therese SUVs vary in weight, from 5,800 to 6,085 pounds, with many innovations and excellent features.
However, even if you drive a large SUV, it does not mean you will be safer on the road. Therefore, you must remain wise when choosing a large SUV.
Ford Excursion – 7,688 Pounds
Well, this one is no longer on the market, at least not in new condition.
The Ford Excursion is the largest and heaviest mass-produced SUV I've ever seen, probably the heaviest in the world.
This heavy-duty SUV is built based on the Ford F-250 Super Duty Pickup truck, so it's no wonder that its size and weight are abnormal.
The Ford Excursion weighs 7,688 lb for the Turbodiesel version and 7,230 lb for the gasoline engine version.
The Ford Excursion was first produced in 1999 and marketed as a 2000 model year. Unfortunately, Ford decided to stop production in 2005 for various reasons.
Pros and Cons of Heavy SUV
Pros of Heavier SUV
You will receive less impact in a head-on collision.
More protection in a frontal crash.
People or drivers in smaller cars are more likely to be injured.
There's more wiggle room in case of a crash.
Lesser chances of fatality in road accidents.
Heavier vehicles do better in car crash tests.
They are roomier and more comfortable.
You will feel more planted on the road as you drive.
Cons of Heavier SUV
Ineffective projection of headlights in some models
Most of them have poor fuel economies.
Heavier SUV has higher prices.
You can't easily park anywhere.
Most heavy vehicles don't look sleek or sporty.
More difficult cornering, steering, or accelerating.
It would help if you were more mindful when driving in high-traffic areas.