SUVs and Crossovers offer the perfect blend of space and versatility. These cars offer ample room for passengers and cargo and the option to tow or off-road.
Whether you're looking for a family-friendly vehicle or need extra space for hauling gear, these models have the bonus of fold-flat seats.
Here are 14 of the best SUVs and crossovers with fold-flat seats:
2023 Kia Telluride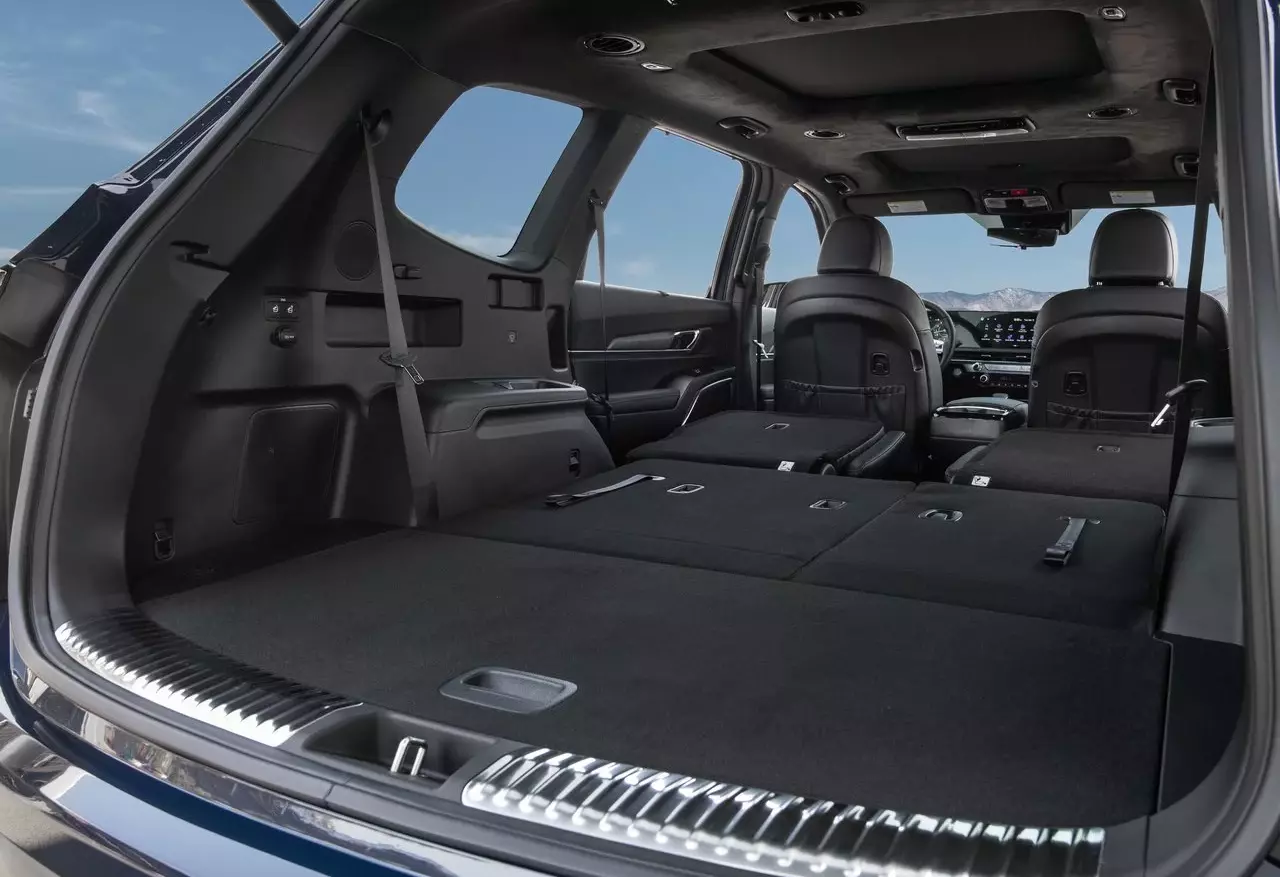 Like its predecessors, the 2023 Kia's Telluride has great luxurious features that give it the edge over other SUVs.
The convenience of its one-touch fold-flat seats makes it even more attractive to those who need room for a large family or group of friends.
No more struggling to get into the third row, and plenty of cargo space when needed. Activating the one-touch fold-flat seat option is quick and easy, giving you the best of both worlds in a comfortable and stylish SUV.
The one-touch fold-flat seats add to Telluride's already impressive list of features, making it a top contender for a spacious and luxurious SUV for those in the market.
2023 Mazda CX-9
The 2023 Mazda CX-9 is another impressive SUV that has seen upgrades in both performance and design.
Apart from the powerful turbocharged engine, upgraded suspension for a smoother ride, and a sleek exterior redesign, the CX-9 fold-flat seats and larger infotainment screen make it a great choice for families.
With 14.4 cubic feet of cargo space, it may not be the best car for hauling large items.
The CX-9 has drawbacks, such as its limited cargo space and smaller third-row seats.
Overall, 2023 CX-9 offers a luxurious driving experience with plenty of technology for a well-rounded vehicle.
2023 Chevrolet Suburban
The 2023 Chevrolet Suburban is one of those rare SUVs that offer a massive interior space with fold-flat seats, making it perfect for large families.
With its first-class comfort and style, the 2023 Suburban stands out among its competitors regarding cargo volume and passenger room.
The added convenience of a power fold-flat third row and a false floor for storage make this SUV even more attractive.
When these seats are all in use, the 2023 Suburban comfortably seats nine people.
But with the ability to fold down the second and third rows, this SUV offers plenty of versatility for passengers and their cargo.
2023 Honda CR-V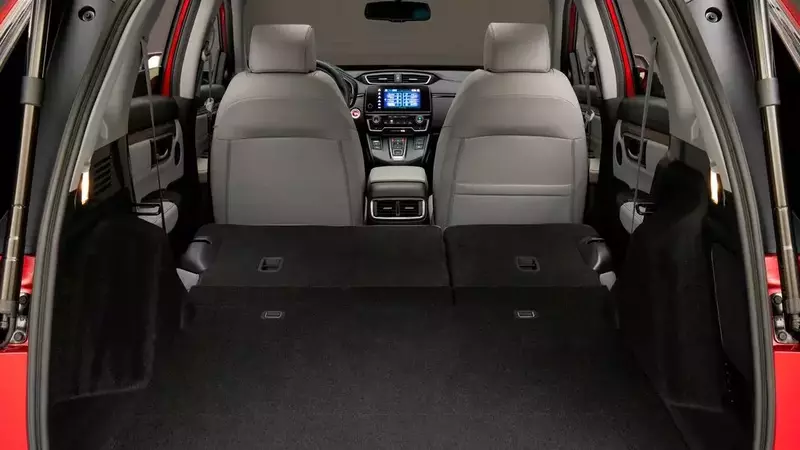 The 2023 Honda CR-V might not have seen much of a powertrain change, but it remains a spacious, comfortable, and versatile compact SUV with plenty of driver options.
Its fold-flat seats easily load, unload, and rearrange cargo without removing heavy seat components.
And with an available hybrid powertrain, it's a more efficient option for environmentally conscious drivers.
Whether you're headed on a road trip or doing your weekly grocery run, the CR-V's fold-flat seats ensure you have the storage space to accommodate whatever you need.
2023 GMC Acadia
Another top pick for SUVs with fold-flat seats is the 2023 GMC Acadia.
This midsize SUV offers seating options for up to seven people, and its Smart Slide second-row seats make accessing the third row a breeze.
The Acadia also offers 50/50 split-folding in the third row for extra cargo storage and a second-row passenger-side tip option that allows the seat to slide forward and angle slightly, even while an empty forward-facing child seat is in place.
With its flexible seating options and adaptable interior, the 2023 GMC Acadia is a great choice for any on-the-go family.
2023 Ford Explorer
The 2023 Ford Explorer has also impressed with its fold-flat seats' interior design and convenience.
The available power-fold third-row seats make it easy to accommodate passengers and cargo, and the front seat belts can even be removed for extra space.
The Explorer offers a comfortable ride for up to seven people and the ability to fold down the third row with the push of a button for extra cargo room.
There are various upholstery options, including leatherette, Miko-simulated suede, and leather.
The 2023 Ford Explorer provides a comfortable ride and convenience with its fold-flat seats.
2023 Mazda CX-5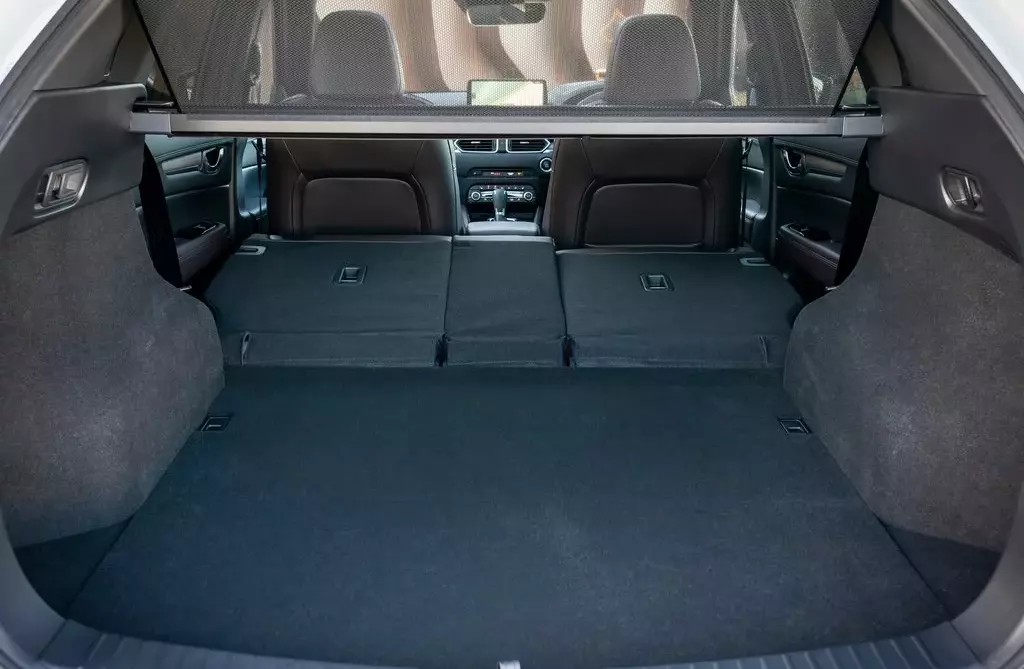 The 2023 Mazda CX-5 is popular for its slick and sporty design, but it also offers a comfortable ride and a range of useful tech features.
One standout feature is the fold-flat seats, which allow for more versatility and storage space in the cabin.
With a 40/20/40 split-folding second row and easy folding from the boot, the CX-5 offers ample cargo capacity for all your storage needs; whether a road trip with friends or a home improvement shopping trip, the CX-5's fold-flat seats make it easy to accommodate all your belongings.
2023 Jeep Grand Cherokee
The 2023 Jeep Grand Cherokee continues to offer impressive off-road capabilities with advanced four-wheel-drive systems and Selec-Terrain traction control.
Regarding space, the fold-flat seats provide ultimate versatility for hauling cargo or accommodating passengers. With the added convenience of a power-folding third row and remote release for the second row, it's easy to create a flat load space in no time.
The Overland trim level offers luxury amenities, such as the hands-free liftgate and dual-pane sunroof, making it the perfect choice for those who enjoy both adventure and comfort.
2023 Toyota Highlander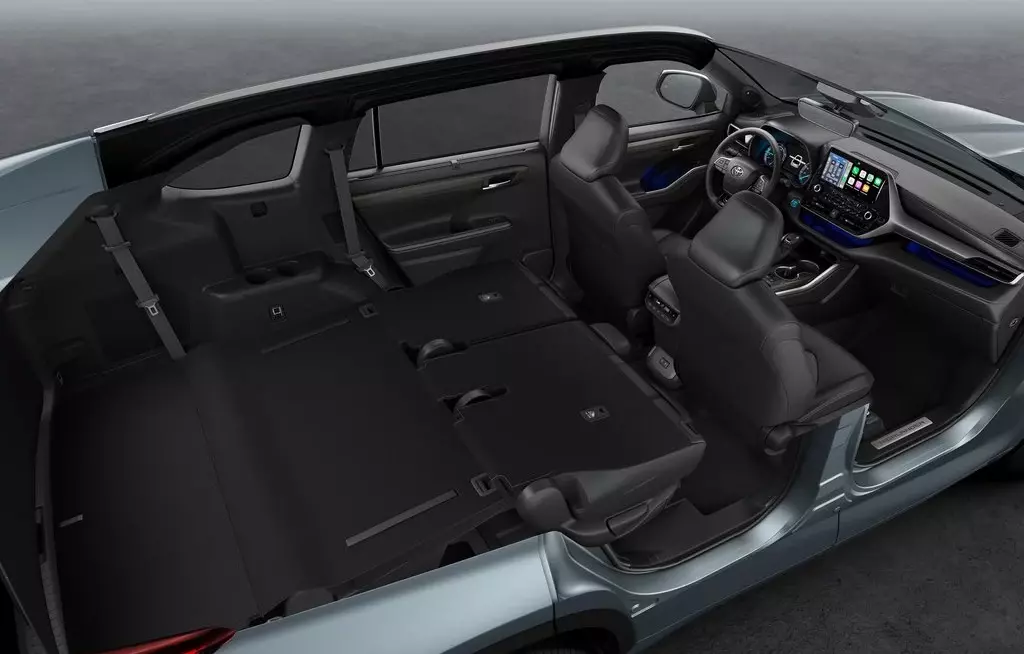 Another top pick for fold-flat seats is the 2023 Toyota Highlander.
This popular SUV offers seating for up to eight people and versatile cargo options with its fold-flat second and third-row seats.
The additional convenience of a power liftgate and one-touch folding seats make it easy to create a flat load space for hauling larger items.
The Highlander also offers a hybrid powertrain option, making it a more efficient choice for environmentally conscious drivers.
You can count on the Highlander for both versatility and reliability in your everyday adventures.
2023 Hyundai Tucson
The 2023 Hyundai Tucson has gained a lot of headlines with its popular redesign and a new hybrid option.
But that doesn't overshadow the fact that it also offers convenience with its fold-flat seats, allowing for more storage space or accommodations for passengers.
The Tucson offers a 60/40 split-folding rear seat and the added convenience of reclining second-row seats.
With its sleek design, comfortable ride, and fold-flat seats, the Tucson is a great option for those looking for both style and versatility in their daily driving needs.
2023 Chevrolet Traverse
2023 Chevrolet Traverse folding seats give passengers even more options for cargo space and seating arrangements.
The second and third-row seats can fold flat with the touch of a button, allowing for easy loading and unloading.
This transforms a 23 cubic-foot cargo area into this enormous 98.2 cubic feet of space, making the Traverse perfect for hauling all gear and equipment.
What you get is a large and versatile SUV that can handle the needs of families and adventurers alike. You can carry up to eight passengers or fold down the seats for maximum cargo space.
2023 Acura MDX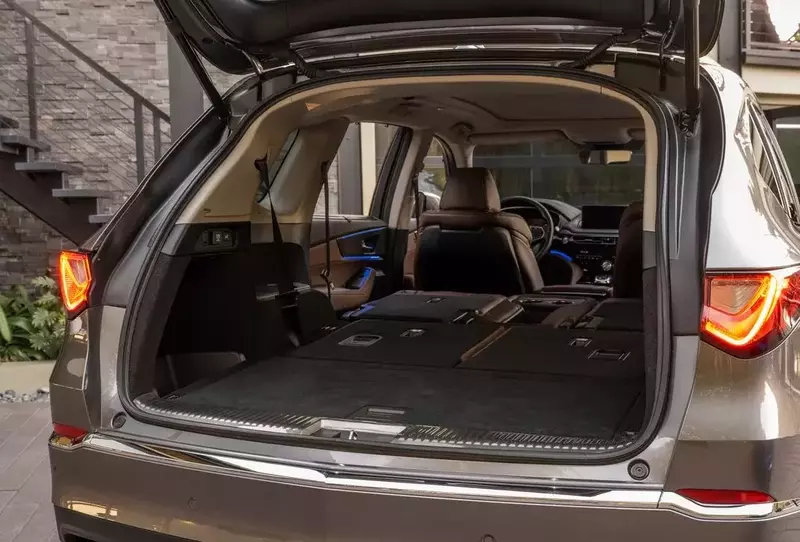 The 2023 Acura MDX is an impressive SUV with a spacious and versatile interior and plenty of convenient features. Its strong cargo capacity and clever storage solutions make it a practical option for families or those who need room for hauling and carrying items.
When you stow away the seat into the floor, you transform the 39.1 cubic feet of space into a roomy 71.4 cubic feet- perfect for bringing luggage, sports equipment, or furniture.
The power liftgate and hands-free option add even more convenience.
As a midsize luxury SUV, the MDX offers a comfortable and smooth ride with this much cargo capacity and storage options; it's versatile enough for everyday use or a road trip.
2023 Chevrolet Tahoe
Here is another 2023 Chevrolet SUV with folding seats, the Tahoe. With its strong towing capabilities and impressive cargo space. It also has an available power liftgate and hands-free power liftgate options to make loading even easier.
The Tahoe folding seats take it to the next level regarding cargo flexibility.
You get up to 122.9 cubic feet of cargo room when both rows are folded, making it a great choice for hauling big items or going on a family road trip.
This gives it a competitive edge over popular SUVs like the Ford Expedition Max.
2023 Hyundai Santa Fe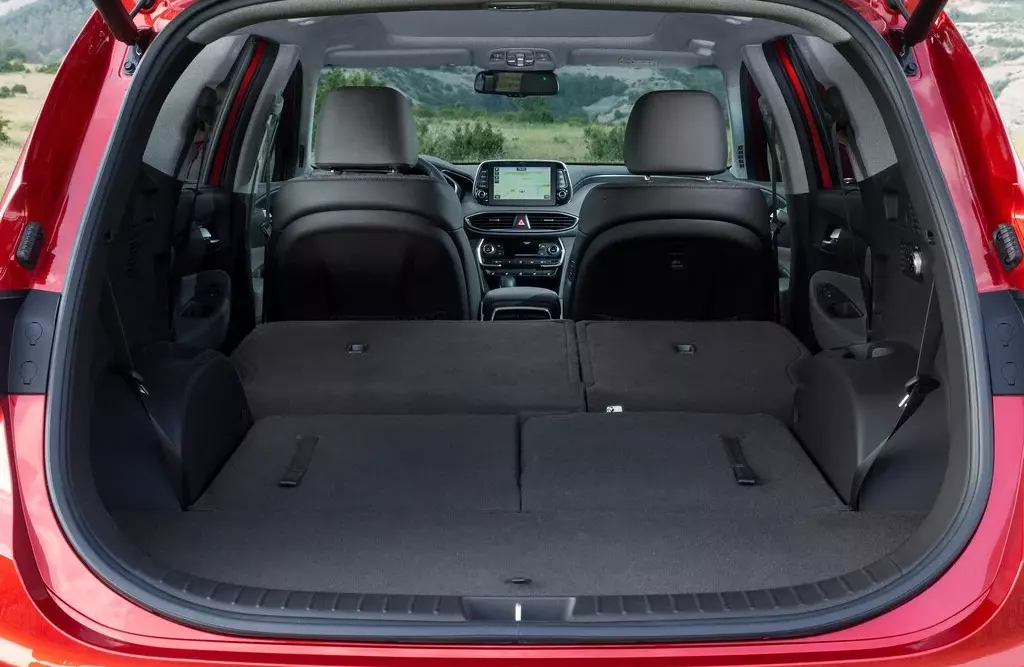 Last on the list is the 2023 Hyundai Santa Fe. It's a decent SUV with a spacious interior and comfortable ride.
However, critics have criticized its lack of technology features and underwhelming engine power. But don't let that overshadow its convenient folding seats.
The second-row seats fold down with the touch of a button, allowing for easy loading and unloading. Its standard 60-40 split-folding bench front seat also adds to its versatility for carrying passengers or cargo.
You can fold the seats manually or use the remote folding power release feature in certain trim levels.
The power-release feature isn't available for all trims, but it's still a nice addition for those who want an extra bit of convenience.
Conclusion
While most SUVs and Crossovers offer plenty of cargo space, getting that extra flexibility with folding seats can make a big difference in hauling larger or odd-shaped items, having additional passenger room, or just adding convenience when loading up the car.
The above vehicles offer folding seats as a convenient and versatile feature, making them stand out in their respective classes and categories.
Whether you're looking for a luxury SUV or a more practical family vehicle, folding seats are worth considering as an option.