SUVs have been known to be the safest vehicles that every family can trust on snowy roads. This is because they have been equipped with the best technology to make driving in snow easy and secure.
However, it's essential to know that many SUV models exist in the automobile world, and every model is unique. Therefore, we have checked some of the best SUVs for snow to make it easy for you.
2023 Mazda CX-5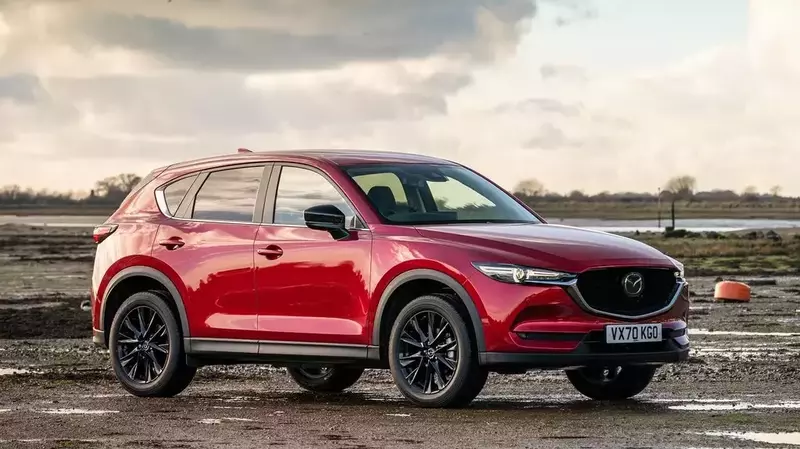 The Mazda CX-5 has all-wheel drive as standard and can handle snowy roads like a champ.
This SUV is one of the best in the market, with a good fuel consumption rate and a smooth ride. Its interior is comfortable with first-rate materials and a fantastic layout.
The front seat armrests are comfortable since their heights are at the same level. The steering wheel is well positioned at the driver's reach for a smooth ride. It's a good car for snow because of the following features:
It's driver-assistance technology.
Standard adaptive cruise control
Automated emergency brakes
All-wheel-drive
Heated seats
Heated steering wheel.
However, Mazda CX-5 has average cargo space, fewer tows than its competitors, and tight rear seat legroom.
2023 Toyota RAV4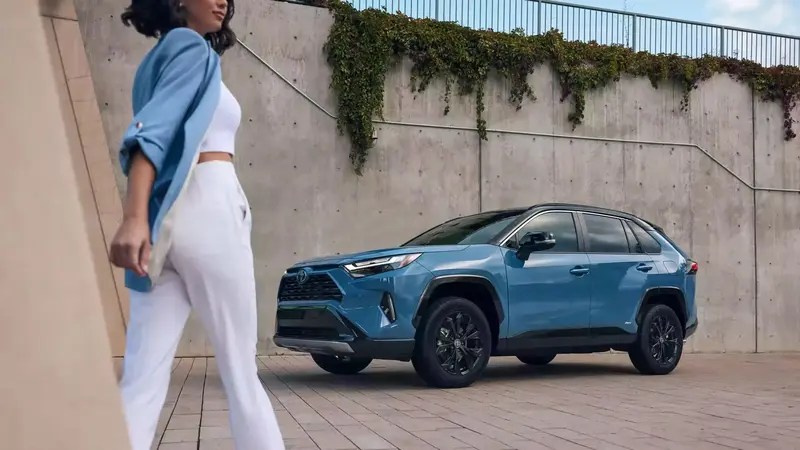 Toyota RAV4 has a cargo-friendly interior with good fuel economy. Other unique features of this car include a 2.5 four-cylinder engine, a cloth seat base trim, steering wheels with leather wrap, and a padded dashboard.
The car comes with two years of free maintenance services.
In addition, it has impressive safety features that will make you safe as you make your way through the snowy road. Some of the safety features include;
Driver-assistance tech
Infotainment features
Two-zone automatic climate control
All-wheel system
Automated emergency breaks
Standard lane-departure warning and lane-keeping assist
2023 Honda CR-V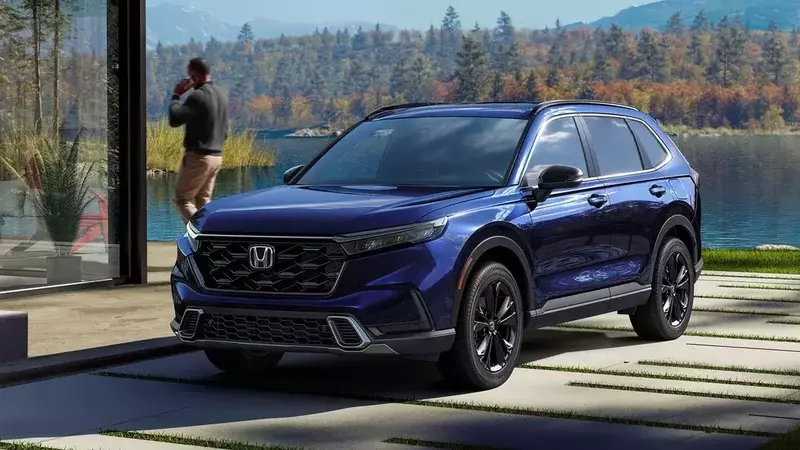 Honda CR-V is one of the preferred cars to drive on the snow since it has snow mode and all-wheel drive that makes driving on the slippery road easy and increases safety as you navigate through the snow.
Blind mode is another important feature that makes this car preferable, for it helps detect the presence of another vehicle on the other end.
Other important features of this car include:
Honda sensing suit
Collision mitigation braking system
Adaptive cruise control
lane-keeping assist system
traffic sign recognition
In addition, the cargo space of this car is big enough to accommodate several items.
2023 Subaru Forester
This all-wheel drive SUV has good features that make the car an all-weather road. Being an all-weather road, you can be confident that it's the car you need for the snow season.
It's a high-quality vehicle that stays long and retains value better than any car of its class. It has amazing features that give the driver and the passengers safety, and its interior is comfortable to stay in.
Subaru Forester has features that enable the driver to avoid a collision, detect the coming car, live entertainment, and several others.
2023 Hyundai Kona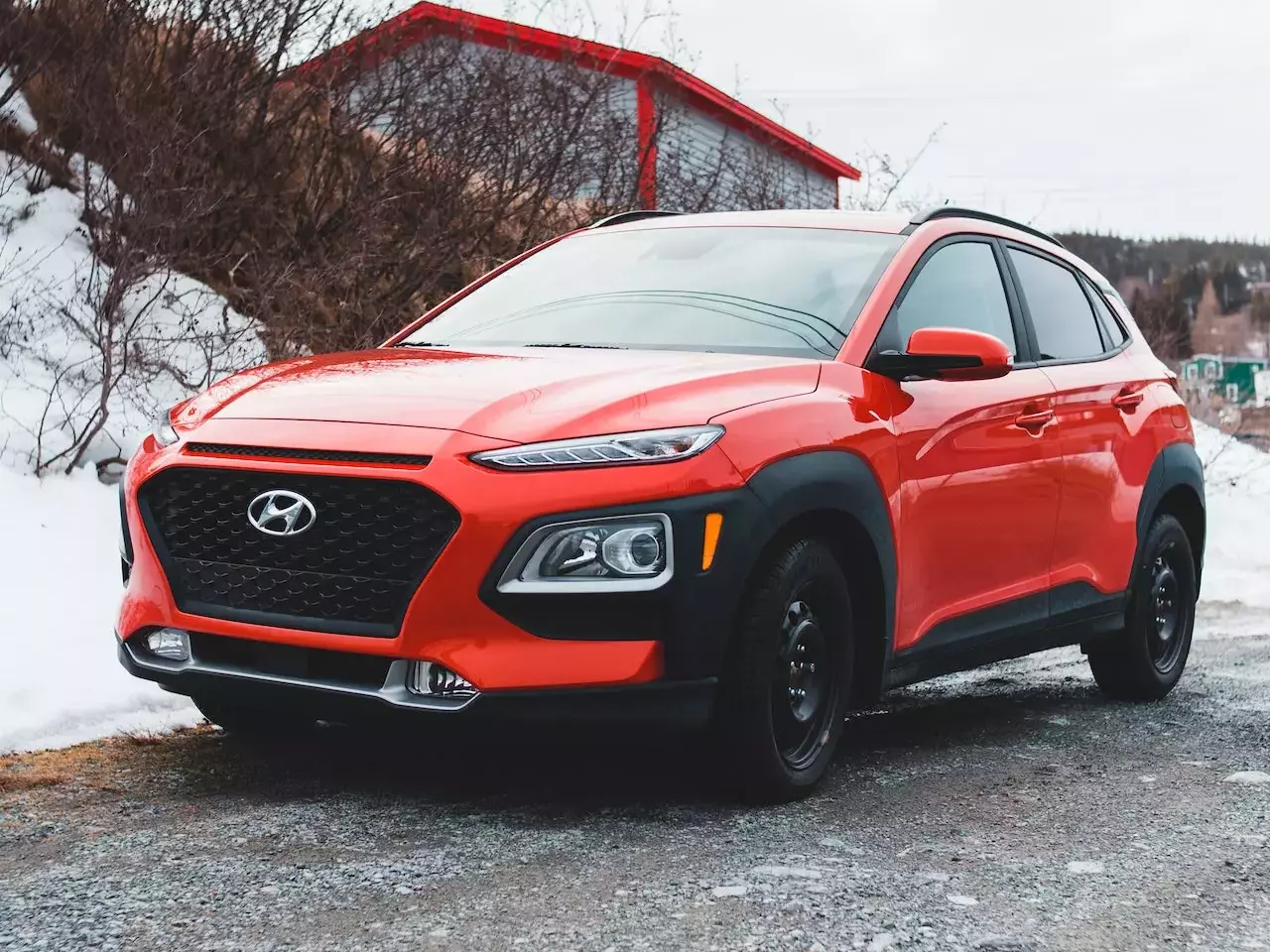 This is an ideal car for anyone looking for a small SUV car. It's fun and safe to drive to do several features that promote safety. It's economical on fuel, reliable and cheap.
It has 2.1 four cylinders, touch screen navigation, wireless device charging, good infotainment tech, decent MPG, fun turbo power, driveline traction control, airbag occupancy sensor, collision mitigation, tire pressure monitoring system, and high driving assistant, amongst other features. These features make it safe to drive in the snow.
2023 Ford Bronco Sport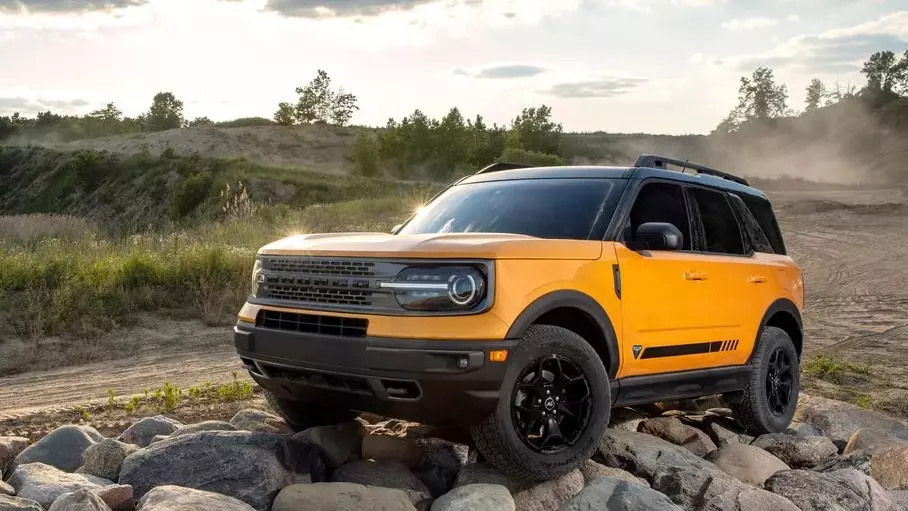 This is another SUV that you will love driving on the snow. It has a slippery mode that helps it on snowy roads.
The vehicle has other features that make it a good snow car, such as; snow mode, an automatic braking system, over 5 inches of ground clearance, and four-wheel drive. All these fantastic features will help you move out of the snow, no matter its intensity.
This SUV will give you pleasure driving on normal good roads and when driving in snow.
So whether you are going for an adventure in a snowy area or live in a snowy region, this car will sort you out.
2023 Subaru Crosstrek
Subaru Crosstrek has been ranked as the best SUV for winter by iSeeCars. With its 8.7 inches of ground clearance, you can confidently hit the snow.
Safety features such as forward collision warning, automatic led-headlights, and automatic braking will protect you from danger by ensuring the visibility is good and you can quickly stop the car when necessary.
Because of the collision warning, you can avoid colliding with another incoming car even when the snow is too thick. Being an all-wheel drive vehicle, it gives good stability and balance, preventing sliding in the snow.
2023 Ford Escape
Ford Escape is good for snow. It has a slippery and deep snow mode that helps the driver adjust the car to drive well on slippery roads.
The standard driver-assisted technology gives features that allow the driver to see well in the snow and also avoid accidents in case of an incoming car.
However, some reviews say that this SUV has limited traction and grip since it's made as a 'soft-roader.'
2022 Jeep Compass
This is another SUV you need for snowy roads. Some of the features that will give you safety, better sight, stability, and prevention from accidents are;
A traction management system includes a control unit, actuator, accelerator pedal, and an injection pump.
Snow option balanced torque in all the tires for stability.
High-quality materials for body structure to protect for protection in case of an accident.
Eight standard airbags for protection
Sensing windscreen wipers for cleaning up the windscreen in the snowy weather
Blind-spot monitoring.
2023 Kia Sportage
Kia Sportage is another small SUV you need for driving in the snow. It's an all-wheel-drive car which makes it a perfect can for snow. It's equipped with a traction control system to ensure good grip and stability.
Other features that make this SUV do well in snow are; ABS and driver-assisted technology.
The multi-terrain drive mode helps change the car according to the weather conditions or the condition of the terrain.
2023 Mazda CX-30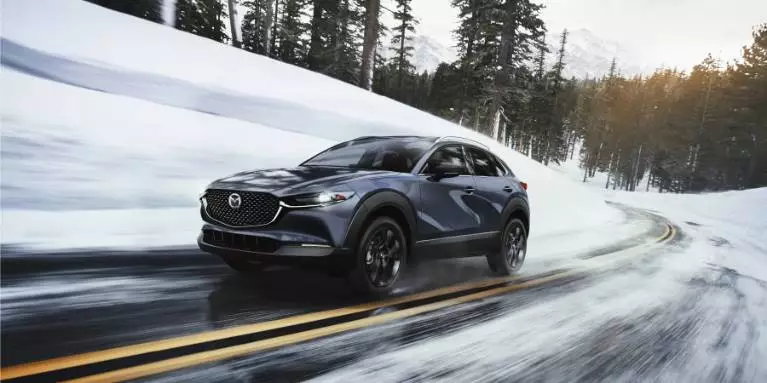 Mazda CX-30 SUV is designed with aluminum allow wheels which are 16-18 inch base trim, and all tires are all-weather tires, making them suitable for snow weather.
The SUV has a ground clearance of eight-inch, making it stable in the thick snow.
The traction assist is another vital feature this car possesses to ensure the vehicle is not stuck in the snow.
With these features, you can trust this car will help you reach your destination when it gets snowy.
2023 Nissan Rogue
The 2023 Nissan Rogue is an AWD SUV that helps you easily maneuver the snow.
Optimal tracking is another critical feature that allows this car to drive in snow without problems.
Snow mode, active ride control, ABS, vehicle dynamic control, and electronic brake force distribution are essential features that make drivers drive the car easily while in the snow.
With Nissan Rogue, the safety level is high when driving on the snow.
2023 Hyundai Tucson
This SUV car has several safety features that ensure safety and comfort while driving in the snow.
With Hyundai Tucson, you can drive your car confidently since getting into an accident is not easy because of the safety features.
However, no matter how safe the car is, your safety majorly depends on how keen you are on the road.
The safety features for snow driving in Hyundai Tucson are;
All-wheel-drive
ABS
Lane keep distance
Forward collision warning
Blind-spot monitoring
Ground clearance of 6.4 inches
2022 Mitsubishi Outlander
This SUV is available with a petrol engine, but more modifications are expected shortly. The car has good features to handle snow while maintaining safety.
The interior of this car is spacious, with a soft leather seat to enhance comfort. Some of the features that make this car good for snow are;
Traffic sign recognition
Anti-lock brakes
Active traction control
Adaptive cruise control.
The 2022 Mitsubishi outlander has five models with different features, so checking each model and its features are crucial.
Final Words
Driving on a snowy road can be fun if you have a good vehicle that can handle the snow.
Every time you leave your home, you want to reach your destination without any problem, even though it's snowy. This is why you must get a good car for snow.
When buying a car that will help you drive comfortably in unfavorable weather, you must be keen on the vehicle's features.