Carrying your bike on your car roof, using a rear bike carrier, or even stashing in parking will give you challenges. The best option is to put it inside the car.
The bike will be a lot safer when you carry it in your car because when it stays outside, it may be stolen, and you may prevent other unprecedented occurrences as well.
In this article, I have a solution about the best SUVs to carry your bikes inside and how you can configure your vehicle for your cycles to fit in.
For instance, you can take your bike's front wheel off and squeeze it to fit in. On the other hand, when the vehicle has a bigger trunk to contain the cycles, you can pack them in
Top 10 SUV For Carrying Bikes Inside
Here are some choices of best SUVs for carrying your bikes in the backseat or the trunk that you can add to your reference list:
Honda Element
The Honda Element is a favorite vehicle to many. This compact SUV has enough space to hold several bicycles without necessarily removing their front wheels.
Sadly, the car manufacturer stopped the production of the Honda Element. Back in 2011, Honda discontinued selling this model. However, you can still purchase a used Honda Element for around $7,000-$11,000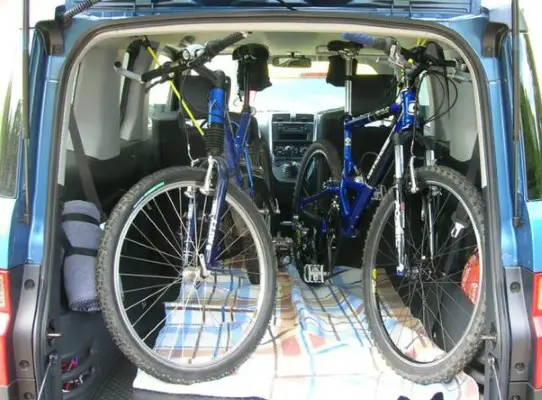 The element has enough space of about 25.1 cubic feet when all the seats are in use. You can increase that area space to 74.6 cubic feet when you fold the rear seats.
With that capacity, you can easily fit 3 or 4 bikes, even without removing the front wheel of your bike.
A Reddit user could even fit his motorcycle into a Honda Element. You can imagine how wide that is right?
Honda CR-V
The Honda CR-V is another good option to think about. It is well known for its spacious interior.
For the cargo space, you can enjoy 39.2 cubic feet just behind the second row. This can be increased to 75.8 cubic feet when you fold the second row down. This space can accommodate four bikes when their front wheels are folded.
You can carry a 57 cm road bike and lay them flat with all the wheels mounted as you go for local rides. Additionally, you can fit a medium mountain bike by mounting it inside the cargo space and other several items like clothes, food, helm, and more.
The price of a brand-new Honda CR-V starts from $25,350. it is available on the cheap when you go for a second-hand model
Toyota Land cruiser
You will pay a lot of cash to get a Toyota Land Cruiser, but it is worth every penny as you can easily fit two bikes in it without folding the seats and removing the bike's wheels.
2 bikes fit at the back without removing their wheels
3 bikes fit at the back with their wheels on if you slide the rear seats forward and can still accommodate passengers with less legroom
4 bikes can fit when you remove their front wheels and slide the rear seats forward.
The only issue about owning a Toyota Land Cruiser Is the price in the market, and a brand new 2021 Toyota Land Cruiser will cost you $85,000
You can get a second-hand vehicle at a lower price, and it will serve you better. This model remains in good shape within 350,000 millage coverage.
Honda Pilot
Honda Pilot has enough space of 83.8 cubic feet with a seating area to hold 2 to 3 bikes when removing their front tires. When you fold the second and third rows of the Honda Pilot seats, it can accommodate a bike and other equipment.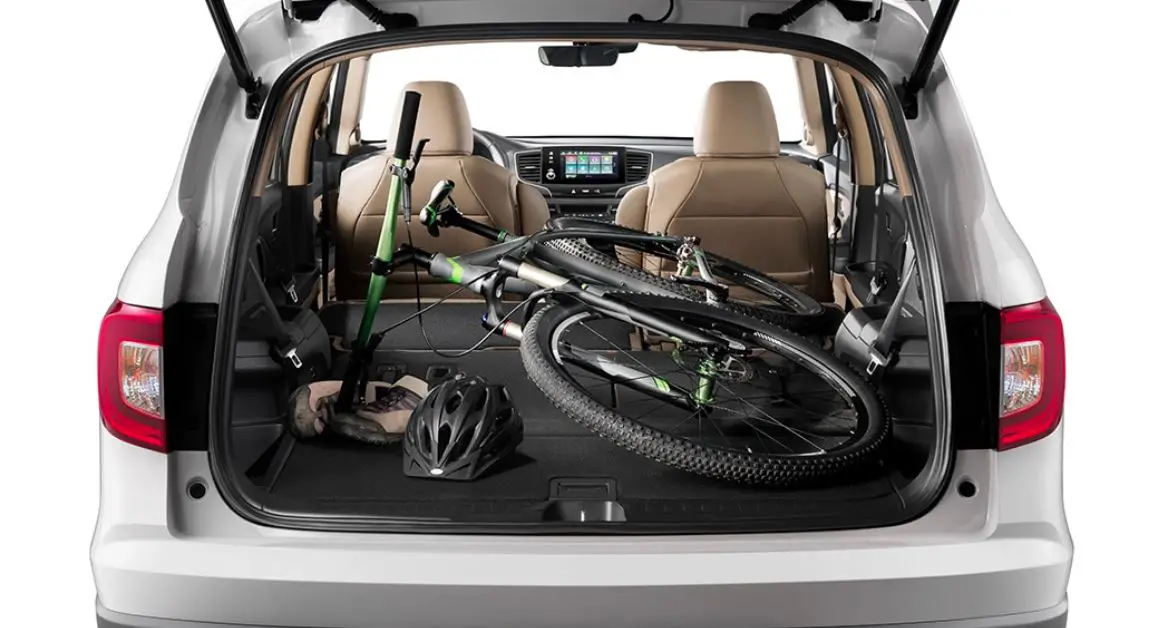 Honda Pilot is one of the top-ranked mid-size SUVs right now; it's comfortable, spacious, and has a decent overall performance.
The 2022 Honda Pilot EX-L price starts at $39,060, and the touring version goes for around $43,620. You can also lease this SUV for a super affordable price, which is about $300 per month.
Chevy Suburban/GMC Yukon XL
It is worth noting that Chevy Suburban and GMC Yukon XL are the same. The dimension of the two cars is the same because they are made using the same frame. The two-vehicle vehicles have truck space and seat area of 41.5 ft and 144.7 ft, respectively.

The Chevy Suburban and GMC Yukon can easily hold 2 or 3 bikes without removing their front wheels while removing the third seat and folding the second seat down. You can also find other options if you have many bikes.
The latest Chevy Suburban starts at $52,300, and GMC Yukon XL starts at $53,700. Lower prices are available when you purchase them second-hand.
Ford Bronco Sport
Ford Bronco Sport is the perfect candidate to choose among the others, at least that's what Ford says.
This model has enough cargo space to accommodate two mountain bikes with 27.5-inches uprightly. They have even included a Yakima bike rack as an option to purchase.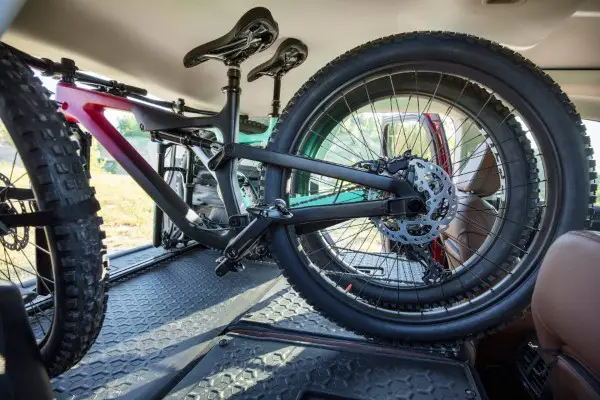 The target markets of Ford are people who enjoy outdoor activities, and the cyclists are not spared.
The power options to choose from bronco sport are a 1.5 three-cylinder engine with 181 horsepower and 190 lb-ft of torque, and a 2.0-liter four-cylinder with 245 horsepower, and 275 pound-feet of torque. These two options are All-wheel drive.
The prices for Ford Bronco Sport are $28,155 for the base model. The exceed model goes for $35,000
Toyota 4Runner
The Toyota 4Runner is an off-road-ready SUV just like the Toyota Land Cruiser but affordable. This SUV has a spacious interior and suits perfectly well for lovers of mountain bikes.
In the Toyota-4runner forum, you can fit 2 bikes and remain enough room to accommodate three passengers. It has enough space to carry four bikes inside.
The Toyota 4Runner is considered one of the best-selling SUVs because of its specification, and it is still quite affordable. The 2022 model starts at $37,305, and it is cheaper when you purchase a used model.
Honda Passport
Can you fit a bike in my Honda Passport? Yes, of course.
All the versions of the Honda lineup can hold a full-size bike. The cargo space of the Honda Passport is 100.8 cubic feet. This is enough space to hold two bikes and still get room to fit other gear.
Honda Passport was designed for outdoor activities from the way it holds a ground area of 8.1 inches. You can also get many additional accessories for the Passport that can support your outdoor needs.
Toyota Rav4 Hybrid
Toyota Rav4 Hybrid is popularly known for its compact crossover. It is affordable and goes for $28,500 only. It has a cargo space of 69.8 cubic feet, enough to hold a bike.
I have managed to fit my 27.5 mountain bike without a problem. It can also hold a 58 touring bike without removing the front wheel.
I've also been able to fit both my mountain bike and my roommate's 29er, and all we did was take off the front wheels.
Hyundai Tucson Hybrid
Hyundai Tucson Hybrid has a vast space of about 38.7 ft to 80.3 ft with enough seating to accommodate 2 or 3 bikes when the front wheels are removed.
This hybrid compact SUV consumes less fuel and can reach 38 mpg on the highway.
Hyundai Tucson Hybrid is equipped with standard HTRAC All-wheel drive, suitable for downhill road drive where you can go with your bike.
Hyundai Tucson Hybrid is still new in the market, and you can get it for just $29,050.
Honorable Mentions
In addition to the SUVs, other vehicles worth some consideration is the vans. There is a 4X4 Mercedes Sprinter. You will also find a Ford Transit Cargo AWD that can be turned to become a campervan and carry so many cargoes, including bicycles.
You could also consider a minivan like the Nissan NV Passenger, Honda Odyssey, Kia Carnival, and Chrysler Pacifica.
Final Word
For safety, protection sake from an element, or convenience purposes, you will need to keep your bike inside the car when transporting them.
With the above most incredible vehicle that I have shared in the list, they will give you that possibility. Some cars can stash more bikes without necessarily removing their front wheel. They will offer you the convenience you need.