SUVs are helpful for more than simply getting your family to and from football matches or road excursions.
These "lighter trucks" are also capable of transporting. All you have to do is be cautious while looking for models that are truly large enough to accommodate a motorcycle. But don't be concerned! We're here to assist you with that.
Can a motorcycle fit in an SUV?
Motorcycles may be transported in SUVs if the cargo room is large enough to handle the bike's dimensions, typically 75 inches long, 31 inches wide, and 48 inches high. Of course, it all relies on the SUV you're driving and the motorcycle you'll be transporting.
Motorcycle Types and Sizes
At least 12 types of motorcycles are commonly used, and they are classified based on many things, including size.
| | | | | | |
| --- | --- | --- | --- | --- | --- |
| Motorcycle Type | length | Wide | High | Weight | Fit/not fit |
| Standard | 75 inches | 31 inches | 48 inches | 380 lbs | fit |
| Cruiser | 90-105 inches | 32 – 37 inches | 50-53 inches | 550 lbs | not fit |
| Sport Bike | 75-85 inches | 28-35 inches | 40-50 inches | 400 lbs | fit |
| Touring | 90-105 inches | 32 – 37 inches | 50-53 inches | 900 lbs | not fit |
| Sport Touring | 90-105 inches | 32 – 37 inches | 50-53 inches | 500 lbs | not fit |
| Dual Sport | 72 inches | 28 feet | 49 inches | 300 lbs | fit |
| Scooters | 68-75 inches | 30 inches | 42 inches | 250 lbs | fit |
| Moped | 68 inches | 28 inches | 40 inches | 180 lbs | fit |
| Dirt Bike/Off-Road | 80 inches | 32 inches | 48-50 inches | 220 lbs | fit |
SUV that Can Fit Motorcycle Inside
Honda Element
The Honda Element is a car manufacturer with a unique design, resembling a VAN in shape. The Honda Element is well-known among campervan enthusiasts; the Elements is among the campervan-ready vehicles. You can put anything in it, including a bicycle, plywood, pallet wood, ATV, motorbike, and, if you can locate one, a Tirex.
Unfortunately, this SUV is no longer available. In 2011, Honda decided to stop producing this 5-door SUV. However, you may find a used Honda Element for a reasonable price, ranging from $9,000 to $15,000 based on condition and mileage.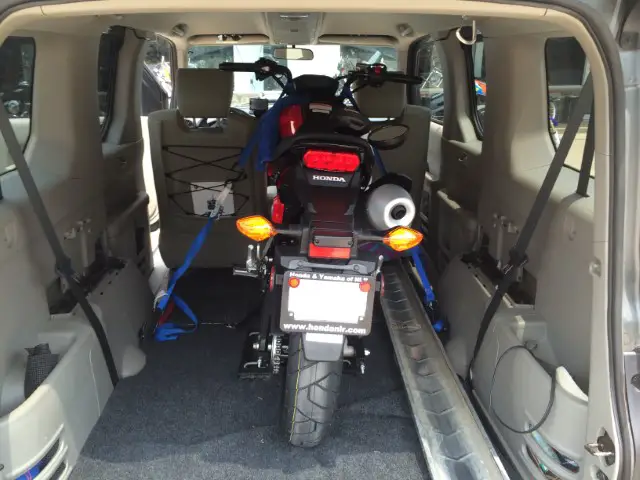 Ford Excursion
The Ford Excursion can carry two regular bikes (or smaller ones) in its trunk because it's pretty long.
The cargo room in a Ford Excursion is 96 inches long and 40 inches wide so that a motorbike will fit without a problem. The Ford Excursion's cargo capacity ranges from 1,512 to 1,950 pounds (685 to 884 kg); therefore, the weight isn't an issue.
The length of this model is the only major drawback. Yes, it could fit bikes well, but it is also large and challenging to maneuver and park in tight spaces. That's the price you'll have to pay over something so significant.
The all-new Ford Excursion for 2021 is the topic of a lot of conjecture these days. It is the world's largest SUV, and Ford will reintroduce it shortly. The last built this F-250-based SUV in 2005, but Ford might bring it back. This vehicle is expected to return to the road in 2020, according to many reports.
The Excursion will get a makeover, as well as a new engine and architecture. The SUV market is booming, and the Excursion will undoubtedly be a smash hit. The offer will include both diesel and petrol engines. Blue Oval will also release a handful of trim levels, as well as a high-performance variation.
Cadillac Escalade ESV
This SUV is nearly identical in size to the Ford Excursion. Fitting two bikes into this SUV won't be an issue with a length of 224 inches (83 cm) and a width of 81 inches (32 centimeters). Escalade ESV has a cargo capacity of 1,700 to 1,800 pounds, so weight isn't an issue.
The fifth-generation Escalade is based on the GMC Yukon XL & Chevrolet Suburban and has many of the same features.
The new independent rear suspension, which promises a smoother ride and more interior space, is standard for these SUVs.
The Escalade ESV also comes with new technology, such as Cadillac's Super Cruise, one of the finest semi-automated steering systems on the market, as well as a sharp-looking screen that spans the majority of the dashboard.
Chevrolet Tahoe
The Chevy Tahoe's payload capacity ranges from 1,698 to 1,745 pounds (771 to 791 kgs). Its height is 211 inches (535 cm), so it won't be an issue, just like the previous variants.
Alternative Way to Transport a Motorcycle
The two most ideal vehicles for carrying a motorcycle are trucks and vans. They offer more cargo room than other vehicles. If you don't connect these two vehicles, the Towing Trailer and a motorbike carrier for the SUV are two options.
Motorcycle Towing Trailer
One of the best & safest methods to pull a motorcycle is to use a towing trailer. Because the towing trailer is large enough, many bike riders like to utilize it.
Other drivers can easily see it due to its enormous size while traveling a safe distance away.
There are several trailers on the market these days that you may use to load or move your motorbike safely.
You'll need to install some tie-down hooks & ramps in suitable locations for proper towing.
Motorcycle Carrier
You can utilize a motorbike carrier in addition to a trailer. In comparison to a trailer, it is a basic and straightforward way. A load of roughly 500 pounds may be carried on the motorbike carrier.
As a result, we can conclude that it can pull most motorcycles, as the typical motorbike weighs 400 pounds.