The way they are right now, SUVs are one of the most common vehicles of choice for family cars due to their comfortableness. They come at the expense of speed or, at the very least, cost if you're trying to go for both.
Despite their bulky design and other shortcomings, fast SUVs such as Volvo, Acura, Lexus, and others are still fast.
Here are some choices of the fastest SUVs under 40k that you can add to your reference list:
2023 Mazda CX-30 Turbo Premium (5.8 Seconds)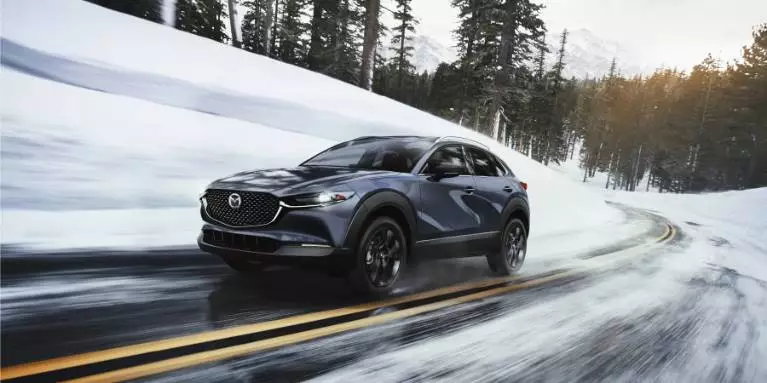 Coming in at $33,800, the 2023 Mazda CX-30 is a beast when it comes to acceleration and speed. This is mainly due to its 2.5-liter I4 turbo pushing 250 horses for the car to use.
Due to this turbo, the car's acceleration reaches 60 mph in just around 5.8 seconds, way league every other entry before it.
And its fuel economy scores an average of 25 mpg combined, which is not bad but not mind-blowing.
Overall, the Mazda CX-30 is one sexy speedster, but not much else aside from that.
2023 Lincoln Corsair (6.0 Seconds)
The 2023 Corsair from Lincoln is a good-looking and refined SUV that gets the job done for you.
Its 250-horsepower turbocharged 2.0-liter inline-four powerhouse allows it to reach 60 mph in just 6.0 seconds and 22/30 mpg, respectively.
There aren't as many bells and whistles that come with it unless you're okay stepping out from the $38,000 base model.
Though it still is a pretty great contender for one of the fastest SUVs.
2023 Volvo XC40 (6.2 Seconds)
So, when talking about the fastest SUV for under 40k, Volvo's 2023 XC40 model is definitely mentioned. Out of all the SUVs listed in this article, it is cheaper, starting at $36,350.
And despite its relatively low price, its performance is nothing to scoff at when it comes to fast SUVs. Every XC40 comes equipped with a turbocharged 2.0-liter engine with a horsepower of up to 248 horsepower for its T5 model.
Due to this, it can reach 60mph in a measly 6.2 seconds, which is absurdly good for an SUV that's more meant for comfort rather than speed.
The Volvo XC40 T5 does not win this list's most efficient fuel efficiency. But it's still one of the fastest SUVs for under $40,000 due to its pros above.
2023 Mazda CX-50 2.5 Turbo
The 2023 Mazda CX-50 2.5 Turbo is an exciting contender among the quickest SUVs under $40,000. It's armed with a robust 2.5-liter turbocharged four-cylinder engine, pumping out an impressive 250 horsepower and 320 lb-ft of torque when running on 93-octane fuel.
This powertrain, paired with Mazda's refined six-speed automatic transmission, provides an engaging drive, delivering a punchy, responsive performance.
In terms of acceleration, the CX-50 impresses, reaching 0-60 mph in just 6.1 seconds. That's a notable feat for a vehicle in this class, putting the CX-50 firmly on the map for those prioritizing both speed and affordability in an SUV.
There are eight trim levels available for the Mazda CX-50, the lowest of which starts at just $27,550. However, the variant boasting a turbo engine, the CX-50 2.5 Turbo, begins at a slightly higher price point of $37,150."
2023 Acura RDX (6.6 Seconds)
The next SUV for the second spot lands at Acura's RDX.
Though it is hard to compare to Volvo XC40 in the first place, Acura's RDX model is still a great vehicle with great features at the cost of a steeper price than usual at $38,200.
Under the hood, every single one of the Acura RDX comes with 272 horsepower charged 2.0-liter four-cylinder in them.
The Acura RDX reaches 60mph in 6.6 seconds, just 0.4 seconds of difference from Volvo's XC40, which, again, is pretty decent and average for SUVs under $40,000, ensuring you fast travel through highways and cities.
As for its fuel efficiency, the RDX scores worse when it comes to MPG than Volvo XC40, with a score of 25 mpg on highway tests.
Update: Acura appears to have nudged the price of the RDX slightly above $40,000 to around $41,750. However, you can still find the 2021 or 2022 models in the used market, with prices typically ranging from approximately $35,000 to $37,000.
2023 Lexus NX (6.9 Seconds)
To be upfront, the new Lexus NX is a bit downer when you compare it to both entries above. But it's also way cheaper, starting at $38,350.
But despite being cheaper, its 235-hp turbocharged 2.0-liter four-cylinder engine is more than enough for it.
The car's engine can accelerate from 0-60mph in 6.9 seconds which is still very good for a bulky SUV like the 2022 Lexus NX.
Thankfully, it holds up quite well in fuel efficiency, with ratings of 22 mpg for city driving and 28 mpg for highway driving.
2023 Mazda CX-5 Turbo (6.1 Seconds)
While Mazda's CX-30 trades many things at the cost of speed, Mazda CX-5 is the opposite. It's not as quick as the one above, but it makes up in other areas while not lagging in the fastest SUV under $40,000 race.
Starting with its engine, it uses a 256 hp four-cylinder engine that allows it to reach 60 mph in 6.1 seconds.
It's also quite good fuel-economy-wise at 25 mpg city-wise and 31 mpg highway-wise.
So, if you're looking for the sexy bodywork and fun experience of driving a Mazda while still being relatively fast for an SUV, the CX-5 Turbo got you covered at $36,850.
2023 BMW X1 (6.8 Seconds)
Fast and Practical. That's what the new BMW X1 is as an SUV. It's not winning any award for design, but it makes up for its speed and fuel economy with its engine.
This car's 228 hp four-cylinder engine allows it to reach 60 mph in 6.8 seconds while maintaining good fuel economy at 24/33 mpg and 23/31 for both FWD and AWD, respectively.
As such, the BMW X1 is an excellent choice for $36,395.
2023 Ford Escape (7.7 Seconds)
If you're looking for an SUV with outstanding fuel economy combined with respectable acceleration and speed, the new Ford Escape is for you.
Starting at $28,000, the Ford Escape has a ton of trims and powertrains for you to choose from. Starting from two gasoline engines, a hybrid, and a plug-in hybrid.
The Escape's cheapest model uses a turbocharged 1.5-liter three-cylinder engine that produces 181hp, translating into a 7.7 second in its 0-60 mph test.
2023 Mazda CX-9 (7.0 Seconds)
Luxurious, comfy, and fun to drive.
The 2023 Mazda CX-9 uses a standard turbocharged four-cylinder engine coming in at 231hp for its engine. Due to this, its 0-to-60 is still respectable at around 7.0 seconds which will be enough for most drivers.
Its fuel economy leaves something to be desired, but the main selling point of the CX-9 is the experience of driving one, and you can experience said thing starting at $38,750.
Final Word
And that's pretty much it for the fastest SUV under $40,000. There are many of them, so try not to feel too overwhelmed when you're choosing your own to buy. If you're on a budget that's over 40K, I recommend checking out the Fastest SUV under $50,000, or if your budget is under $40,000, you can check out the fastest SUV under $30,000.