Cars are now more than just transportation. Not only are they attractive, but they are also like a smartphone, intelligent, and helpful in many ways. These days, cars have many hybrid and driver-assistant features, making them more comfortable to ride.
Despite the features, the type of car will be one of the things people will consider. And from all the types of cars available in the market, crossover and SUVs dominate the sales chart.
These cars are great for family use or just for those who need a functional yet valuable car. Even die-hard sports manufactures are planning to play in this market too.
If you are one of those who like SUV cars, you might want to wait a bit. Some of the best SUVs are coming up, and they are sure worth waiting for. Not all are new, but they will come with better features for people to enjoy. Here are some of the Best upcoming SUVs that you will surely want to wait for:
2022 Acura MDX
If you are looking for a luxurious yet sporty looking SUV, you will surely love the 2022 Acura MDX. The exterior design is wide, long, and lower-body, making it look powerful and aggressive. It also has a striking shade on the cars' sides, making it look athletic and sporty. As for the lights, there is an LED taillight that will brighten your way throughout the road.
Not only the exterior but the interior is also impressive. Inside, passengers and drivers can sit on a high-grade authentic material seat. All the front to the back seats is made with quilted leather to give people a first-class experience.
Another great thing about the interior is it has a wide space between each seat, making everyone comfortable.
2022 Buick SUV
All 2022 Buick SUVs will get refreshed styling cues and an innovative slew of tech features. The 2022 Buick enclave will get a new grille, restyled headlamps, new wheel designs, and an updated rear end. Inside, the New Enclave gets changes to the center console and Apple CarPlay/Android Auto connectivity.
The 2022 Buick Envision didn't get much change, though. The New Envision got a new Sapphire Metallic paint option. The same goes for the Buick Encore GX. Not much has changed in this compact crossover, only a few new color options, including Cinabbar Metallic, Sapphire Metallic, Sunset Glow Metallic, and Rosewood Metallic.
2022 Jeep Grand Wagoneer
Who doesn't love the Jeep Wagoneer design? Not only does it have a bold and robust exterior design, but it also has a great machine to support your traveling activities.
Based on the information in the market, the full-size wagon will come with a plug-in-hybrid powertrain. However, the machine is not yet confirmed; some say it will have 3.6-liter V6 & 5.7-liter V8.
It consists of three-row seats that give a wide space for families and friends as it is an SUV car. The cabin inside is made with an elegant and high-tech design, making it look luxurious.
Special drivers will face a fully digital gauge to help them control what they need by pressing some buttons.
2022 Volkswagen Taos
Those who want a small SUV from a top brand should check out the 2022 Volkswagen Taos. Compared to other SUVs, this car is smaller, so it is an excellent choice for those who don't want a bulky car. However, the driver and passenger seats are roomy for people and cargo even though it looks small.
This SUV consists of two-row seats that are simple yet classy. There isn't anything special inside that will make your stay or drive more relaxing. However, the seats are made from high-quality leather that will make you comfortable.
Don't worry, and you have more than enough space to put all your stuff for the cargo.
The car that is estimated to be sold for $29,000 will be completed with a new turbocharged. It will have a 1.5 Liter Four Cylinder engine that makes 158 horsepower and 184 lb-ft of torque.
2022 Hyundai Tucson USA
One of the hot-selling crossovers that Hyundai will release soon in late 2021 is the 2022 Hyundai Tucson. Hyundai has been one of the best companies that have been producing the best-selling crossover.
This time they are back with the Tucson that will have a knife-edge look in a much better look. However, this car is limited in design and styling and comes with excellent machines.
The Tucson will be available in both hybrid and plug-in hybrid. With this machine option, people can drive their car with extra power without sacrificing efficiency. It will have a 2.5 Liter inline-four-cylinder to complete the machine, which will deliver up to 187 horsepower.
2022 Hyundai Tucson N Line & Plug-in Hybrid
Hyundai has confirmed that it will add the N-Line and Plug-in Hybrid variants to the 2022 Tucson Line-up in the US.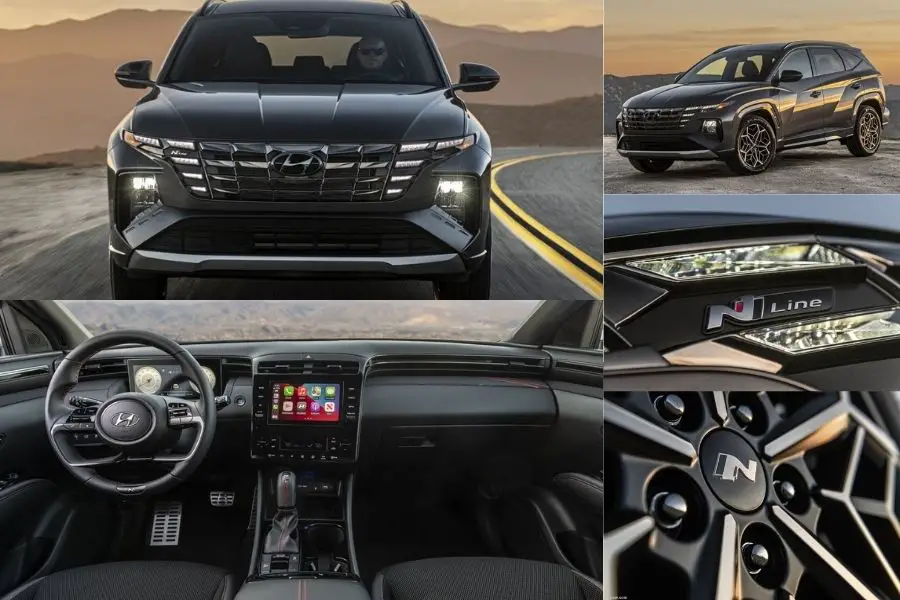 The Tucson N-Line is here to meet the demands of enthusiast buyers for sporty features and designs. Hyundai Tucson N Line Exclusive Features Includes SEL and Convenience packages, plus:
Exterior
N Line front and rear bumper fascia
N Line grille
Black headlamp bezels
Fender N line badging
Unique 19-inch black alloy wheel design
Black side mirrors and window surrounds
Dual-tipped exhaust
N Line rear spoiler
Interior
N Line logos: steering wheel, shifter, and seats
Leather and fabric seating surfaces
Red accents on seats and door trim
Black headliner
Metal pedals and door sill plates
Bose® premium audio system
Now that the 2022 Tucson is available at dealerships across the USA, you can lease this compact SUV for $189 per month.
2022 Cadillac Lyriq
General Motors plans to bring a different rival into the SUV market by bringing the 2022 Cadillac Lyriq. Not only will this car be luxurious, but it will also be one of the SUVs in the market that will offer all-electric energy.
The company hasn't said the amount yet. However, people have been saying that it will cost around $59,995.
Unlike their other electric car, General Motors will launch a new EV battery in the new Cadillac. This battery ranges up to 200 kWh that can go more than 600 miles per charge.
2022 Kia Sorento Plugin Hybrid
For those looking for a lower price SUV, then the 2022 Kia Sorento is a great option. Even though the price is lower than the cars before, this SUV also offers excellent features and engines. Just like another SUV, this version will come in a plug-in hybrid.
As for the power, the battery is 13.9 kW, which can travel up to 48 km on one charge. However, if you want a longer range, you can upgrade your battery to a bigger capacity.
Other than the excellent battery capacity, Kia Sorento will also have wide options of engines and machines. It will be available in one-wheel or all-wheel drive, which drivers can choose from.
The first engine option is the 1.6-liter four-cylinder gas engine with a 44-kW electric motor, and this option is only for front-wheel drive. For more power, you can choose the 2.5 L four-cylinder.
2022 Volvo XC100
Another tremendous electric SUV car that will hit the market soon is the 2022 Volvo CX 100. Volvo is preparing to develop an electric car that will be fully electric, just like the XC40. However, they promise that it will last longer and be better than their older version. The new electric car starting at around $85,000, will also be offered in a hybrid version.
Compared to the older version, this vehicle will be around 30 cm long. This will improve the legroom for the first and second seating row inside the car. Also, with the additional space, you will get more space for your cargo in the back of the car.
2022 Chevrolet Equinox
Chevrolet has always been a leading company in the SUV market. Many people are waiting to release their new car, the 2022 Chevrolet Equinox, with their lead.
The new things people can expect from the 2022 Equinox are the new grille design and bumpers. These additional car designs make it look sportier and fun for young people who need a family car.
As for the Engine and machine, it may not be the best. However, it is still great for city tours. The new Equinox will come with a four-cylinder engine that will make 170 horsepower even though it is not big, but it will be enough for you to go fast on the highway.
2022 Fisker Ocean
In 2019, Fisker Inc's CEO announced that they would soon be releasing an affordable electrical SUV. It is affordable, but it will also have a great machine to reach up to 300 miles. They made their promise and design in the upcoming car, 2022 Fisker Ocean.
This upcoming car will be available in the market for less than $40,000. This is quite affordable for an electric car, especially as it has a driving range of up to 250 miles.
The battery pack will come with an 80 KWh Lithium-ion battery pack that easily be recharged. The design is unique and attractive as it has a modern and sporty exterior design.
2022 Hyundai Terracan
A rival that is ready to hit the market with its robust design is the 2022 Hyundai Terracan. Overall, the design is unique but a bit bulky for an SUV. However, if you and your family love off-road traveling, this will be a great option as it has a high design. So, when you buy this vehicle, prepare to get an SUV that feels like a truck.
There isn't any information yet about the Engine, but people say it will come with a powerful engine. Therefore, the 2022 Hyundai Terracan will be an excellent option for families who love to travel with its bulky design and powerful machine.
The Hyundai Terracan will come at various prices according to the type they buy. This car's range is around $24,000 – $38,000, depending on the type of car you choose. However, from all the types that will be available, the SLE is the most recommended.
2022 Hyundai Palisade
The latest Hyundai Palisade model is expected to arrive in 2022, and this Korean SUV will get a new grille and hood that is more stylish and fresh.
Hyundai will likely focus on redesigning the front to look like the other models it offers. Hyundai will likely make a radical change to attract new buyers.
The price of the current model Hyundai Palisade starts at $32,675. We expect the price for the 2022 model year not to be far from that.
2022 Honda Passport
The 2022 Honda Passport is sure to come with a lot of standard equipment, and the base sport model is likely to have extra features such as blind-spot monitoring and seat heating. The current Honda passport is an excellent crossover. In my opinion, it could have been a lot better for the 2022 model year, and I'm sure it will.
This Honda's mid-size SUV price is still a mystery, but I expect it to start from $34,000 to $45,000.
2023 Honda Pilot
Honda is expected to introduce the fourth-generation Pilot lineup in mid-2022 and is expected to be available in dealerships by the end of 2022 as the 2023 model year.
According to the spotted images, the new Pilot will have a more rugged design than the existing Pilot, which has soft lines that are more minivan than SUV. The current Honda Pilot has a super spacious interior, including the cargo area. You can fit a bike inside your Pilot without having severe trouble.
Under the hood is still the same as the current model year, powered by a 3.5L V6 engine rated at 290 horses paired with 10-speed automatic transmission.
2022 Lexus LQ
A gorgeous luxury SUV that will be coming at the end of 2022 is the 2022 Lexus LQ. At first sight, this vehicle looks like RX, elegant and luxurious. However, even though it looks almost the same, the car's layout is longer and wider. This makes the car roomy and spacy for both the passengers and drivers.
Rumors have been saying that the car will be coming in metallic colors such as gold and silver. This makes the car look expensive yet luxurious at the same time. The LED lamps on each side of the car complete the whole look of the car.
The price is relatively high, as the price starts from $80,000 for the base model. If you upgrade your Engine, then it will be more expensive but worth the machine.
2022 Lexus RX 350L & 450hL
Lexus has unveiled it's new 2022 RX 350L and RX 450hL SUVs. The Lexus RX 2022 model year gets additional colors, including Cloudburst Gray and Iridium. Other than that, not many new things are to be found in it. Nevertheless, the Lexus RX Lineup is one of the most worthy SUVs to buy.
There is no pricing and availability information yet, but we expect to see the 2022 model later this year or early next year.
2022 Lexus NX
Since 2015, Lexus will finally offered the second generation of NX SUV to all of us.
The 2022 Lexus NX lineup will be available in February next year, and Toyota will build all units at the Toyota Plant in Cambridge, Ontario.
There are four trims for the Lexus NX, including the NX250, NX 350, NX 350h, and NX450. And the F Sport package will also be available with this trim.
2022 Lotus SUV
For those looking for a sporty SUV that isn't too big and affordable, check out the 2022 Lotus SUV. This will be a leading SUV in the market not only in China but in other countries too.
There is a reason for this expectation because it will have great features at an affordable price. Therefore, why spend too much money on a hybrid train that will decrease?
The 2022 Lotus SUV overall design is like a sports car; however, the size is slightly bigger. Even though the size is small, the machine is big enough to bring you around cities, with 600 horsepower. It will also have a 750 hp quad-motor or 778 hp, which will boost your ride.
The range can go for a 360-mile range that surpasses the Tesla Model X Long Range that can only go for a 360-mile range.
2022 Ford Fusion Active
Ford has always been a leader in the SUV market, mainly because of its small and sporty design. However, the 2022 Ford Fusion Active is a bit longer and bigger than other Ford lineups.
There isn't much difference that will be coming up in the 2022 Ford Fusion Active Wagon. However, the design is made a bit longer and available in various colors. The engines are not yet informed either. However, it is guessed to be a 2.5 Liter four-cylinder engine. Another possible option for this car is the 2.0 Liter four-cylinder with an eight-speed automatic transmission.
As for the price, it is expected to be sold for around $29,000. Compared to its rival, this price is not too high. However, we don't know anything yet about the features.
2022 Ford Expedition Timberline
The Ford Expedition is scheduled to get an update soon because the models currently available in the market have been around since 2018.
There is not much I can say about this new Expedition, and Ford will likely add a hybrid system from the F-150 to it. The hybrid system will work with a 3.5L twin-turbo V6 engine.
I expect the 2022 Ford Expedition will be released in late summer or early fall with the 2022 Ford Expedition Timberline name.
2022 Jeep Grand Cherokee
When people hear the word Jeep, many people think of the Wrangler design. However, this time their thoughts will change when they see the 2022 Jeep Grand Cherokee. This is the newest design and upcoming car that brings a new and modern version of a jeep. The design is not made bulky with only squared shape parts but will add some curves and lines.
There isn't any information yet about the engines and their performance. However, it is expected that it will come with a four-cylinder, 3.6 Liter, and V-6. If this is true, it will be a tight competition with its rival, as many have the same Engine.
2022 GMC Terrain
The GMC Terrain is one of the most favorite vehicles from General Motors. However, they are making a significant change in their upcoming 2022 GMC Terrain. One of the most significant changes they are making is the turbo engine they have been using for years. They have made this change so people can enjoy their drive faster and more comfortably.
2022 GMC Terrain will support the new model with a turbocharged 2.0 Liter I4. However, instead of an LTG, the new model will be having an LST. This new machine will produce fewer emissions and be more friendly to the environment. Not only that, but this machine will also produce more power or up to 237 horsepower and 258 lb torque.
As for the design, there aren't many significant changes as it still looks classy and simple. The overall size is not too big. However, it has quite a wide space in all rows of cars. Even though it has not been formally announced, the car is available in many colors, such as red, metallic silver, and black.
2022 Audi Q4 e-Tron
Who doesn't know Audi vehicles that are high-class and luxurious? The great news is that they don't only produce expensive cars only but SUVs for families. However, their SUVs are still made with luxurious designs, making them look different from ordinary SUVs.
The design of the 2022 Audi Q4 e-Tron will be the same as the version before. However, this design will have a Sportback version, making it look sportier and better for young drivers. It will also come with a battery pack that has a capacity of 100 kWh with 20 modules.
According to the Volkswagen Group, this is one of the largest and biggest battery sizes used in Audi vehicles.
With this battery, the 2022 Audi Q4 e-Tron can go around 600 kilometers or 350 miles. For an electric car, this range is quite far, especially with just one charge. As for the price, there is no official price yet, but it will be around $50,000.
2022 Nissan Ariya
If you're looking for a geeky yet unique and stylish car, try to check the 2022 Ariya SUV. The exterior design of this car is a bit curvy on each side of the car. It may seem a bit strange at first sight, but you will love the unique design after a long glance.
Another thing to love about the exterior is the combination color of the car. One of my favorite colors is a combination of gold and black.
Even though the exterior looks unique and luxurious, the interior is made simpler yet futuristic. You may not see many buttons inside the car, as Nissan has removed them and changed them into a screen. You will only see buttons on the driver's wheels to ease you when you drive the car.
2022 Audi Q9
Another vehicle from Audi that you will, at first sight, is the 2022 Audi Q9. Compared to other SUVs, this vehicle is smaller and has only two rows of seats. However, the cargo in the back is quite significant to put your belongings in when you go on a trip. Compared to the Q8 product, the Audi Q9 will be a bit higher and longer.
The interior design, the Q9, will come with a high-quality cabin just like the version before. You won't have many buttons on the dashboard nor the wheels. They have made it on the screen, where it is easier to reach and control.
For the Engine, it is likely to come in two options. The basic one will be a 3-liter turbocharged with a V6 engine. The second possibility is the 4-liter V8 model that can boost car performance.
2022 BMW X2
Those who want a high-class SUV will surely need to wait for the 2022 BMW X2. The car will come out in late 2021 and will have an elegant exterior and interior. The bold colors and lines around the car make the design look bold and superior. It is also completed with LED lights that make the car look even more luxurious.
There aren't many peaks for interior design. However, BMW has always been bringing leather for the interior. Therefore, it is likely that this new version will also come with high-quality leather-trimmed seat material.
As for the Engine, people say it will come with a 2.0 Liter turbo. With this Engine, the car can deliver up to 302 horsepower. Other than that, there aren't too many changes compared to other BMW cars.
2022 Mercedes EQC
The last SUV car is coming soon and making you want to wait for the New Mercedes EQC. This is an electric V-class car that will go up to 430 miles of range. One feature that will support this to happen is the wide range of battery options buyers can choose.
As for the designs, there aren't any clear pictures yet. However, from the heavy disguise, people can surely see the slender LED highlights. The overall design is also a bit more traditional as it looks like their older SUV version. However, they have added some curves on both sides and in front of the car to make it look more modern.
The basic car will have a 100 kWh battery that can go up to 430 miles. This is quite impressive for an electric car on one charge. Another great thing about the car is it can top up to 80% only in 20 minutes.
2022 Mazda CX-5
The best-selling model in Mazda's production line will undergo a significant overhaul. A report earlier this year said Mazda would start production of the rear-wheel-drive inline-6 vehicle in early 2022.
Unfortunately, the exact time of the launch of the 2022 Mazda CX-5 has not been revealed, but we expect the new Mazda CX-5 to arrive at the end of 2022 or early 2023.
3rd Gen Toyota Sequoia
The new generation of the Toyota Tundra Full-Size Truck will make its debut soon. That's why we expect the third-generation Toyota Sequoia to come as well.
The Sequoia will be closely connected to the Tundra, as it has been for the previous two generations. These new Toyotas will employ an updated platform and new V6 Engine, perhaps including a hybrid.
Toyota's new trucks will be built on the TNGA-F body-on-frame platform, serving as a framework for the newly announced Land Cruiser 300-series.
Final Word
So, there you are. Some of the best SUVs are coming soon, around next year to early 2022. I have also written about the SUVs released in 2023 and beyond, so be sure to read my article entitled 2023 SUVs Coming Out and 2024 Upcoming SUV.
Most of the SUVs come in a larger design, but there are some options with smaller sizes. Some high-class companies, such as Mercedes and BMW, have also released an SUV that can offer comfort and luxury.