Driving in the snow is challenging. In a hard winter, for example, snow can be so thick. It even makes the road slippery and dangerous. It needs a particular level of driving skill but also a suitable car. We assure you that you don't want to go on a snowy day in the wrong car.
When you drive in a snowy car, you must know when to brake, be gentle with throttle application, and observe longer in a foggy traffic situation. All of these may save you from a car accident.
List of the Best SUVs for Snow and Ice Driving:
After finding out what features your car must have in winter, it is time to consider the choices.
Here is some reference on the best SUV for snow and ice driving:
Kia Telluride AWD
Kia Telluride is genuinely a terrific crossover and is suitable for winter. The engine of this car is a naturally aspirated V-6. It has 291 horsepower, 262 lb-ft of torque, and an eight-speed automatic transmission. Kia Offers AWD on all Telluride models for $2000 extra ($1,900 on SX models).
The brake is spectacular, and precise steering gives it a nice heft. No wonder this car is a must-buy when you look for a winter car.
Ford Expedition 4WD
The Ford Expedition is a Traditional Full-size three-row SUV. It boasts a rugged body-on-frame design, high ground clearance, and a four-wheel-drive system that will get you where you need to go, even on snowy roads. It comes with a long list of safety and driver-assist features.
This SUV is beefed up with a 3.5L EcoBoost engine with 400 horsepower of Platinum churns. It is the ultimate powerful and big car that will survive during winter.
Subaru Outback
Another best choice is the Subaru Outback. This car must exist on your bucket list because it has a ground clearance that will assist you off-road and on the snowy road. It also has heated front seats, blind-spot monitoring, and passive entry with a push-button start.
Subaru Outback comes with Symmetrical All-Wheels Drive as standard, so you get traction and stability in almost any road and weather conditions.
You will be able to warm up the car before you step in. With upgrading to a 260-hp turbocharged engine, this car is quite a choice.
Toyota Rav4 AWD
The next powerful car for driving on a snowy day is the New Toyota Rav4 AWD. It has 203 horsepower and a 2.5L four-engine completed with eight-speed automatic transmission. The all-wheel-drive feature makes this car suitable for the winter season and regular use.
This car is solid and stable even on an icy and slippery road. The tires are smooth and high-quality rubber that stands on the harsh road.
Mazda CX-9 AWD
Mazda CX-9 is a genuine family car with power, stability, and a futuristic design. It has six automatic transmissions, a 2488 cc power engine with a 4-cylinder configuration, and four valves.
Additionally, this car has a remote start, so you can turn the car on before stepping in. The i-ACTIVE AWD system is excellent for safety and stability on a snowy road.
Acura RDX AWD
When you buy this car, you will get a full value of all-wheel drive athleticism, sportiness, and style.
The New Acura RDX AWD hood is filled with the power of 272 horsepower turbocharged, 2.0 liter four cylinders paired with a 10-speed automatic transmission.
It is also completed with a torque-vectoring SH-AWD system, and brake pedal assist will help you drive safely during winter.
Volvo XC60 AWD
Volvo built this car to conquer the terrain, including the snow. The AWD system on this car delivers power to all four wheels and provides excellent grip on the icy road. It also has safety features called City Safety Suites consisting of driver-assist technology. Such as adaptive LED headlights illuminated, forward collision mitigation, and rear automatic braking monitor.
Range Rover Evoque AWD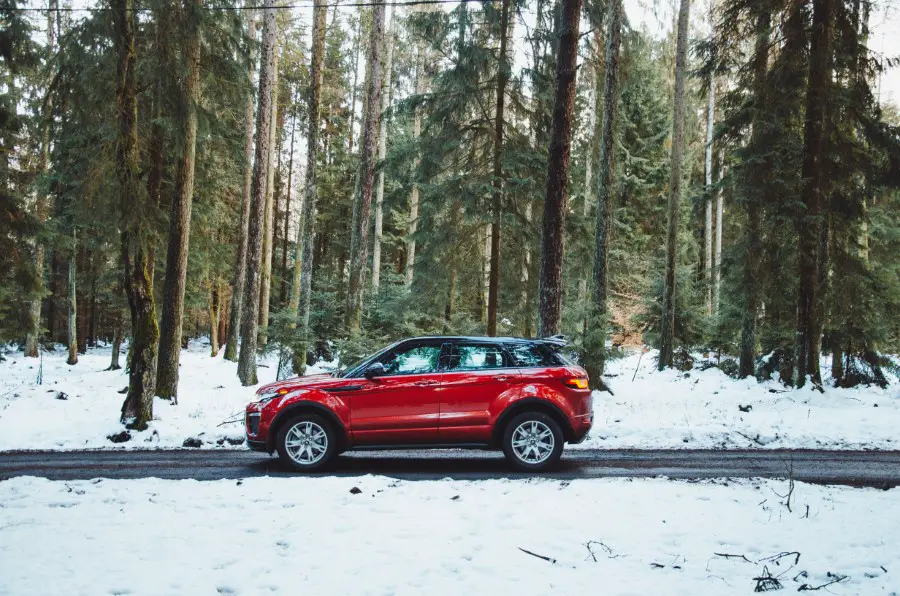 This SUV is a must on the radar when looking for a winter vehicle. Range Rover Evoque is one of the best cars on a snowy road.
All of the trim packages of the Evoque offer four-wheel drive as the standard.
It is also completed with a nifty Terrain Response 2 system that automatically chooses the driving mode. Indeed, in the snow, you can select snow mode.
Jeep Grand Cherokee
The Jeep Grand Cherokee can do great work in all weather conditions, including slippery snowy roads. Grand Cherokee is equipped with a 4X4 Quadra Trac I system, making the vehicle more stable on slippery roads.
You can select one of several Terrain Traction Management System modes. For everyday driving, you can use the auto mode, but for more extreme conditions, you can use a special mode such as Snow, Mud, Rock, or Sand.
Important Features for Driving Through Snow
To prevent any unwanted accident, you should know what features you need in a car. Here they are:
Tires are the essential feature you have to look over when choosing a snow car. It has to be made of rubber but softer than regular tires. These softer rubber tires make them more flexible than all-season tires. Moreover, winter tires are also designed to adjust to icy, snowy, and slippery roads during colder conditions.
Another feature that must exist in the car for the snow season is the all-wheel drive. These features will spread power to all wheels to improve stability and traction. So, when you are looking for winter or snow cars, you have to make sure to advance the all-wheel-drive system. It is important because this feature makes it easier to regain control.
Driving in winter needs more than a traditional braking system. So, make sure you buy a car with an anti-lock braking system to prevent you from clamping down. It is because the system is using a quick pump breaking, which makes you maintain control. Your winter car must have this feature installed.
Stability control is a must-feature when you buy a winter car. It is essential in terms of safety. This system makes you able to control direct sideways motion using a sensor. Just in case your car hits ice and slides, stability control keeps your car steady and helps the driver get back to a straight line.
Keeping your mirrors clear when driving through severe weather and sleet may be exceedingly tricky. Many SUVs include heated mirrors, which help melt snow and ice and increase your visibility.
Remote Start and Heated Seats
Winter cars are not just about safety but comfort as well. Therefore, when buying a winter vehicle, make sure it has a remote start and heated seats. It is beneficial to warm up the car before you jump in. Once you get in, you will be in a warm comfy vehicle because of this feature.
Final Thoughts
As mentioned above, you need a suitable car for driving in the snow. A seasoned snow driver might have known all this, but a beginner can be overwhelmed. Hopefully, the above reference will help you choose the best car for winter.