Having huge space is not the only reason companies use trucks to deliver their stuff. Trucks are also known as powerful vehicles, completed with a great and powerful engine. Its engine is designed to carry heavy loads, face difficult road conditions, and travel miles.
Because the demand increases, truck companies always try to produce the best truck for their clients. Each company also has its battle to make the most potent trucks to sell. As a customer, sometimes it is confusing to choose which truck is better than the others.
So, What is the strongest pickup truck?
Trucks usually come in different configurations, load capacities, sizes, towing capacity, and engine motors. However, the most powerful one could be seen in how much horsepower the truck has. With 702 horsepower, the Ram 1500 TRX is the most powerful pickup truck available today. Then there's the Ford F-150 hybrid, which boasts 430 horsepower and a highly advanced hybrid system.
Here are some strongest pickup trucks based on their horsepower:
Ram 1500 TRX – 702 Hp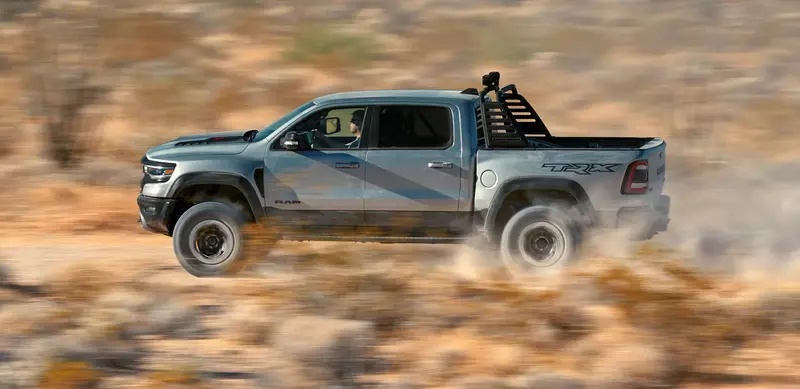 Ram 1500 TRX is the most powerful truck based on its horsepower. This is known as the best perfect truck that everyone wants to get. It is designed with 702 horsepower and 650 lb-ft of torque. This pickup truck is completed with powerful engines, looks like a heavy hauler, is well-finished, and has spacious interiors.
702 Horsepower | 650 LB-FT OF TORQUE | 4.5 SEC 0-60 MPH

2022 RAM 1500 TRX
Ram 1500 TRX is also completed with a high-tech operator with a 12-inch touch screen to make it easy for the driver to operate the truck. In addition, it is equipped with a 3L EcoDiesel V6 engine which makes it excellent for long and far road trips.
Ford F-150 Hybrid – 430 Hp
The second comes from Ford, which is the 2021 Ford F-150. This pickup truck series offers several different trucks completed with extra engine power. It starts with the regular one, equipped with a 3.3L V6, and 290 horsepower. Some other trucks have 325 and 400 horsepower.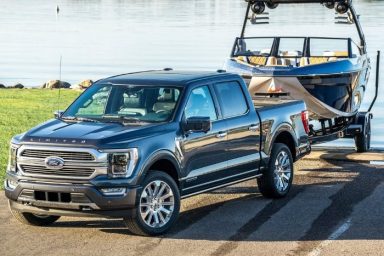 However, the Ford F-150 Hybrid comes with a 3.5L V6 and an electric motor, the total power from the Hybrid is 430 horsepower and 570 pound-ft of torque. All of the series are great trucks, but the one with 430 horsepower is the favorite.
Besides being strong, it is also very reliable. The suspension is comfortable and suitable for bad roads such as potholes and unpaved roads. The special one is ready to take a trip along with the city and the highway.
GMC Sierra 1500 Denali – 420 Hp
The GMC Sierra 1500 Denali is the third place, which has 420 horsepower with 460 pound-ft torque. GMC Sierra 1500 offers some truck choices with five different engines. It starts with 285 horsepower until 420 horsepower, the strongest one. This pickup truck brings a more modern theme if you look at its interior and exterior design.
GMC Sierra 1500 is produced exclusively with cargo bed features and handsome bodywork. Its exterior and interior design would not be disappointing because it is trendy and stylish.
Furthermore, this truck is equipped with modern features such as a jackknife alert that lets the driver know when traffic is on the nearby street and leads the driver to the alternatives.
Chevrolet Silverado 1500 – 420 Hp
The next is Chevrolet Silverado 1500, which also comes in various engines. It is started with 277 horsepower with a six-cylinder turbo diesel, 285 horsepower V6, 310 horsepower with a charged four-cylinder, and 355 horsepower V8.
The masterpiece is a 6.2L V8 (L87) with 420 horsepower outputs and 460 pound-ft of torque. This series can be upgraded to 435 horsepower and 496 pound-ft of torque if equipped with the optional Performance package.
Nissan Titan – 400 Hp
The new Nissan Titan comes perfectly with a 5.6L V8 engine with 400 horsepower with 413 pound-ft torque. Even though it only has 9,400 pounds maximum towing capacity, this truck is completed with an array of desirable technology and a tranquil cabin.
Due to the limits, Nissan Titan still provides a smooth ride and responsive powertrain. It is also supplied with extensive technology features and exterior and interior design.
Toyota Tundra – 381 Hp
In the sixth place, it is Toyota Tundra 2021, which comes with a powerful engine. It is completed with a 5.7L V8 381 Horsepower and 410 lb-ft torque. The towing capacity is up to 10.200 lbs, and it could be ridden in cargo style comfortably. This pickup truck is well known for its ability to tow cargo because it is solid and remarkable for its class.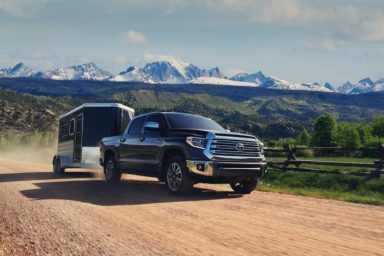 It has a large fuel tank of up to 38 gallons that cannot stop and keep going to have a long haul. Besides, it is also completed with a spacious room, good fuel economy, and a luxurious well-interior design. It is also offered in extended four-door CrewMax and Double Cab.
Toyota Tundra is also perfectly completed with some high-tech features that allow drivers to ride comfortably, such as Apple CarPlay, Integrated Navigation, Automatic Limited-Slip Differential, and other functional elements.
Nissan Frontier – 310 Hp
Nissan Frontier is powered by a 3.8L V6 engine with 310 horsepower and 281 lb-ft of torque. It is paired with 9-speed automatic transmission. It has 6.720 pounds maximum towing rate when it is perfectly equipped. Fortier has the best engine in its class and also unremarkable fuel economy.
This pickup truck is well suited for sellers or tradespeople who are not into desirable features such as Android Auto, Apple CarPlay, or most active safety technology.
Looking for the price, Fortier, as the seventh most powerful truck, also has a cheaper tag than the other competitors but still offers customers the best engine motor and comfortable ride.
Wrapping Up
I have already provided information about the most powerful trucks purchased at the dealer right now.
Some trucks have more power. They include the Hennessey Ram 1500 TRX Mammoth (1012HP), Shelby Ford F-150 Super Snake (720HP), SVE Chevrolet Silverado Yenko/SC (800HP), SVE Chevrolet Silverado Yenko/ SC (800HP), and Hennessey Chevrolet Silverado Goliath (700HP). But they are custom-made trucks, which means you can't just walk into a dealership and buy them.
That's all from me, hopefully useful. Keep the spirit and stay healthy.