A riding mower can be a small tool but with more weight. This means that you need another vehicle to move it to different places. You can choose a pickup truck or a van to make it more portable. You can also opt to use a minivan or SUV, depending on the situation.
So, Will a Riding Mower Fit in a Pickup Truck?
A pickup truck with a 6ft bed or more will easily fit a riding mower. But a short pickup truck like the Hyundai Santa Cruz won't be able to do the job.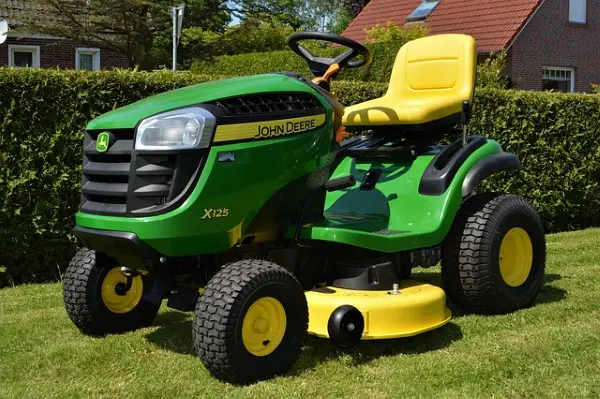 Size and Weight of a Riding Mower
These lawnmowers have a width of 30-80 inches depending on a different feature such as style and more. If you go for a commercial but zero-turning lawnmower, you can have it assembled with a width of 80 inches, whereas a rear-engine riding lawn mower can have a width of 30 inches.
However, any riding lawn mower can be so heavy. This means that it can weigh up to 227kg, equivalent to 550 pounds.
Moreover, it usually has a fuel weight of 6.3 pounds for each gallon of gas. The fuel tanks are well known to hold a capacity of 1-3 gallons. So, if you consider these fuel weights, all these can come to an average weight of 12.6 pounds.
Here is the Popular Riding Lawnmower, complete with sizes that you may find handy.
| | | | | |
| --- | --- | --- | --- | --- |
| Riding Lawn Mower | Assembled Width | Cutting Width | Mower Deck Width | Assembled Height |
| Titan MAX 60 in. IronForged Deck | 62.15 inches | 60 inches | 60 inches | 45.72 inches |
| Kawasaki Big Mow 31 Hp | 83 inches | 66 inches | 66 inches | 68 inches |
| Troy-Bilt 30 in Rear Engine | 30 inches | 30 inches | 30 inches | 42 inches |
| John Deere S120 | 54.9 inches | 42 inches | 42 inches | 44.5 inches |
| Ultima ZT1 Zero Turn | 48 inches | 42 inches | 42 inches | 35 inches |
| Super Bronco XP 54 | 55 inches | 54 inches | 54 inches | 47 inches |
| John DeereZ515E | 62.8 inches | 48 inches | 54 inches | 44.3 inches |
| Toro Time Cutter Zero Turn | 56 inches | 54 inches | 54 inches | 42 inches |
Bed Size of a Pick-up Truck
For you to fit a riding lawn mower, the pickup truck must have a bed length of not less than 6 feet and 8 feet for some other types of lawnmowers. Therefore, you should be more aware of the bed length of the pickup truck before settling down to transport the riding lawnmower.
Generally, a longer bed can have 8 feet, and a standard one can have a length of 6 feet and 5 inches, while a shorter one has about 5 feet and 8 inches. These measurements are rough estimates, and therefore this can differ by some inches depending on the manufacturer's work.
Loading a Riding Lawn Mower into a Truck Perfectly
This can be the most accessible truck if you use suitable equipment. Therefore, you will need some arched loading ramps for you to load it into your pickup.
On the other hand, the curve will allow you to load it at a certain angle. This means that you have to place the mower in the truck without allowing its deck to catch the tailgate tip, making it harder to load the mower.
Straight ramps or 2X8 pieces of lumber are the best solutions for you. However, you should be aware that the ramps can be kicked out from the mower or the mower's deck, catching the tailgate, or the mower can flip backward.
This can therefore cause injuries to the driver or anyone loading it. Here are a few steps to follow to avoid these scenarios;
Park the truck in a good position and turn it off. You can then lower the tailgate.
Pay keen attention to manufacturers' instructions for you to safely secure the loading ramps to the tailgate
You should drive the lawnmower onto the ramps rather than up to the ramps. You can make adjustments to the ramps' width to fit the width of the front tires. This makes it easier for the tires to travel up the center of every ramp.
For you to avoid destroying the engine while driving up the ramp, you can shift the mower into the lowest gear and give it the best throttle. There are some mowers with hydrostatic transmission, therefore, you will need the travel at a slower speed while riding the lawnmower.
Using a steady speed, you can drive the mower up the ramps. Pull it to the far forward position of the truck, this should not be against the bed. Since the mower will jostle around as you drive, you can, therefore, leave some space between the mower and the truck to prevent any damages caused by rubbing. Additionally, pulling it forward assures you of a smoother ride because most of its weight will rest on the rear axle of the truck.
You can then set the mower's parking brake after turning it off. Removing the key will lower the chances of dislodging during your ride.
Use the ratchet straps to secure the lawnmower in the best position. For each strap, you can hoop one end of the strap to the truck bed and run it through the tractor's frames to prevent any form of damages. Here, you can now secure it to the truck bed from the other side.
Get ready to unload the mower when at your destination by closing the tailgate and loading the ramps carefully into the truck's bed.