SUV is a popular choice with a strong following from athletes to celebrities. This vehicle has a vibrant history, that it is no wonder it has evolved into something that has received a lot of love from the public.
So how did this astounding automobile came to be? I shall present a brief background in this article to enlighten everyone about how the SUV came to be.
What is an SUV?
The Sport Utility Vehicle (SUV) as a definite description is not yet fully established.
But this automobile is often depicted as an array of cars that use the technology of a Four Wheel Drive (4WD) system.
This type of transport is very versatile as it can drive through any terrain and weather conditions. It is due to the better wheel control that the 4WD possesses.
However, there are instances when a vehicle is an SUV but not necessarily 4WD or vice versa.
From a more straightforward point of view, SUV classification combines passenger cars that also feature off-road vehicle characteristics. This feature is a solution for the initial problems the SUV encountered during its early stages of development. It is up to the manufacturer if they will introduce the 4WD to their automobile offerings.
What is the secret to Suv's popularity?
From the 1990s through the start of the 2000s, the fame of SUVs increased. It toppled popular varieties like wagons and sedans. At the moment, it is the most well-known option compared to its other contemporaries. Due to its versatility and better control, more users choose SUVs as their car of choice.
SUV Structure Design
SUV is initially a common term for vehicles built with light-truck chassis. But definitions became broader, and it extended to any car with off-road design features is labeled as an SUV. Some Americans call an SUV a truck.
In terms of unibody construction, an SUV has a similarity with a passenger car. This type of called a crossover SUV, but it can be called an SUV too.
Who made the first SUV?
The origin of SUVs can be traced back to low volume models and the military during the late 1930. Before and during the advancement of World War II from 1939 to 1945, these vehicles were actively used in the military.
These prototypes we often in low volume production like sedans or station-wagon type. Its bodies are rugged and have a capable 4WD chassis and an off-road capability. This began expanding its influence all over the world. Then in 1949, the Station wagon with 4WD features and carryalls came to be.
During the turbulent days of World War II, the military needed a small utility automobile that had a rugged and powerful engine that could go through difficult terrain, had minimal downtime and was easy to repair, and could carry things in the back.
Keeping this in mind, Willy's Jeep came a solution to those demands. The design of Willy's Jeep Station Wagon is the initial SUV with a 4WD. It was made in the United States from 1946 to 1964. It was a breakthrough all-steel station in the mass market.
The roster of models made was the Jeep Station Wagon, Jeep Panel Delivery, and Jeep Utility Wagon. The Wagon variants were designed to carry passengers.
Fisrt SUV with 4WD: Jeep Willy Station Wagon
The Wagon was the most successful post-World War II model. It has about 300,000 wagon variants that were made in the United States. During 1949, the Utility Wagon was marketed as a 4WD, and the Station Wagon was being sold as a 2WD model.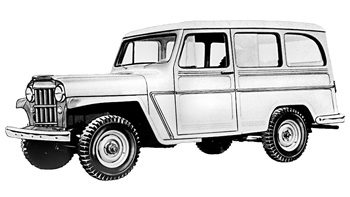 Despite the conflicting opinions about SUVs, it does not deter that Willy's Jeep is the first four by four automobile. This leads to a loose term in some parts of the word referring to an SUV as the same as a Jeep. In this case, we can say that Jeep Station Wagon is first under a 4WD modern SUV.
AMC Eagle: The First Crossover SUV
In 1979, the maker AMC Eagle retroactively was labeled as the initially dedicated crossover automobile. It made its debut before the terms "SUV," or "crossover" came to being.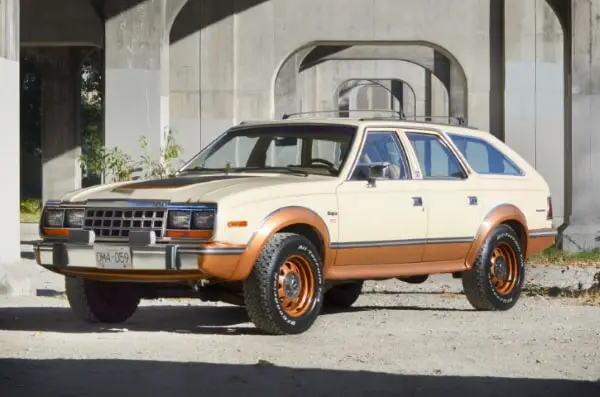 The AMC Eagle is a 4WD compact car that is a passenger vehicle that has a raised ride height. It is proudly produced and sold by the American Motors Corporation. These models ran through this label from 1980 to 1987.
In 1987 Chrysler Corporation had the acquisition of AMC. Chrysler continued the product line in 1988. The mass-produced and marketed Eagle model line maintained features such as the unibody passenger car platform, fully automatic 4WD, and increased ride height.
Jeep Cherokee (XJ): The First Modern SUV
The first-gen of Jeep Cherokee (XJ) was hailed as the first modern SUV in compact vehicles. The unibody construction and 4WD was unique idea during that period. This structure also lessened the total weight of the newly introduced Cherokee model.
The new Cherokee was a commercial phenomenon. This placed the name Sports Utility Vehicle on the map. People talked about it widely in the media.
The Jeep Cherokee (XJ) is considered the very first SUV classified as modern style. The strong selling point is the unibody construction. It was an instant hit by too many urban families. It bested Jeep Wagons and herokee SJ models.
Chevrolet Suburban: The Pioneer!
There is another car manufacturer who invested in making the foundation of SUVs. In 1935 the company Chevrolet introduced the Carryall Suburban. It is labeled the first-ever SUV in history.
The Suburban by Chevrolet is a full-size SUV and has been one of General Motors' most profitable vehicles. It is also the longest and continuously used nameplate of an automobile. This is because this brand name started production in 1934. It has a span of 11 generations as of date.
The initial Carryall Suburban in 1935 was the first produced station wagons with a metal body. It was Chevrolet's world's first SUV production in 1935.
Chevrolet's innovation and leadership continue to push the market.
Final Word
That was the rich history of the first SUV ever made. Currently, the SUV has undergone a lot of progress. It is growing in popularity and has entered into many demographics. It can be seen from the emergence of new types of SUVs produced by various automotive manufacturers.
As of date, there are at least 13 types of SUVs, including the X-Small, Small, Small 3-Row, Midsize, Midsize 3-Row, Large, X-Small Luxury, Small Luxury, Midsize Luxury, Midsize Luxury, 3-Row, Large Luxury, Super Luxury, and Electric SUV. With such a long list of designs to choose from, surely one of these will suit your lifestyle.